Pittsburgh Nursing Home Abuse Lawyers, Fighting for Your Family
Speak With a Pittsburgh Nursing Home Abuse Attorney Now at 412-948-7300
Narrowly Focused Pittsburgh Nursing Home Abuse Lawyers
Senior Justice Law Firm
100 Fifth Ave Suite 409, Pittsburgh, PA 15222
(412) 948-7300
Take a Stand Against Pittsburgh Nursing Home Abuse –
Demand Senior Justice
Has your loved one developed a pressure ulcer, suffered a fall, or passed away due to wrongful death inside a Pittsburgh nursing home or personal care home? Pennsylvania law prohibits these kinds of preventable injuries inside extended care facilities.
Our law firm focuses on elder abuse inside nursing homes, assisted living facilities, personal care homes and memory care units. This is all that we do. If your family member suffered an injury or wrongful death in a Western Pennsylvania facility, speak with our Pittsburgh elder abuse attorneys today.
Learn your rights, stand up to elder abuse and take action now.
Call our Pittsburgh nursing home abuse lawyers today at 412-948-7300 to learn your legal rights. The call and consultation is free.

Senior Justice Law Firm is a firm focused on representing victims of elder abuse inside long-term care facilities. Let our vast experience in this niche field help you and your family get justice.
We are not a car accident law firm that dabbles in nursing home cases. This is what we do, and we are here to help. Call us today to see why we are different from other injury law firms.
No Out Of Pocket Payment Required, Ever
If you are suspicious as to what happened in the facility, speak with our Pittsburgh nursing home attorneys today. We require no out of pocket payment, ever. We work exclusively on contingency fee. This means we only get paid if we recover money for you and your family.
How Will I Know if I Have a Pittsburgh Nursing Home Case?
When something bad happens inside a nursing home, many clients wrestle with whether the bad outcome was due to negligence. Was the injury preventable? Or was Mom simply too old/sick/confused that this injury was inevitable?
It is human nature to second guess the cause of the injury. Yet, it is crucial to remember that these facilities are legally required to prevent injury and harm to residents. If a toddler wandered out of a day care and was hit by a car, would anyone blame the child? More often than not, when our Pittsburgh nursing home abuse lawyer obtains a copy of the nursing home chart, we find that the actions, or inactions, of the facility fell below the standard of care.
If you have suspicions, or just a bad feeling, regarding the explanation you received about your loved one's injury, do not write it off. Speak with our Pittsburgh nursing home abuse attorneys and let our firm look into the incident. We can help you get answers, and justice, regarding your loved one's mistreatment inside a nursing home or assisted living residence.
Common Injuries Resulting in Successful Pittsburgh Nursing Home Lawsuits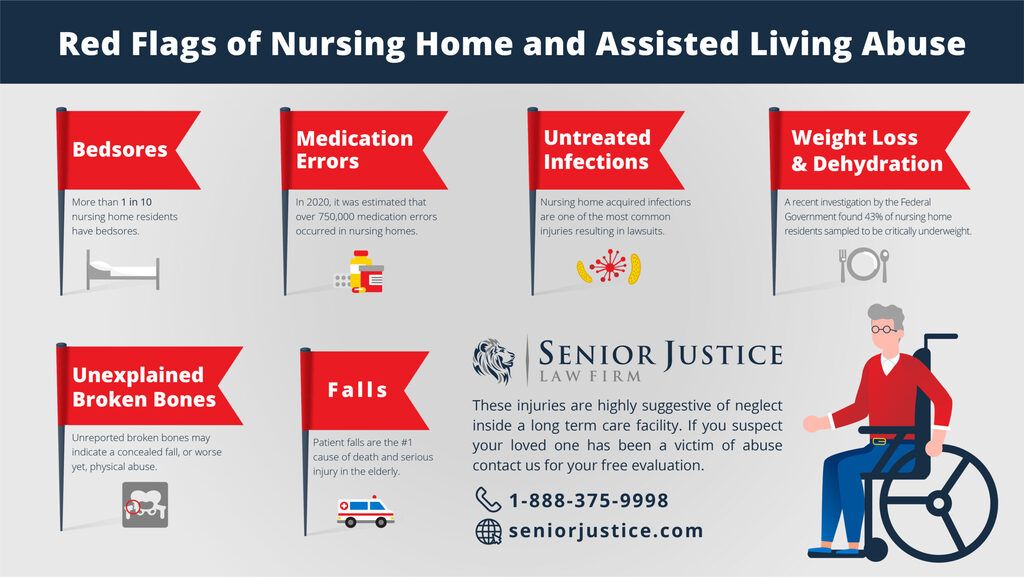 Nursing homes will not fess up to their mistake. In fact, in our experience, some will actively conceal what really happened. For this reason, if your loved one suffered any of the 'red flag' injuries inside a Western Pennsylvania facility, call us at 412-948-7300 today. These injuries are strongly correlated with nursing home negligence.
Pittsburgh, We Have Your Back
Pittsburgh is the capital city of Allegheny County and the most populated city in Western Pennsylvania. Located at the center of the Ohio, Allegheny and Monongahela rivers, "The Steel City" prides itself on self-reliance and friendly people. The metropolitan area of Pittsburgh has more than 2.3 million people and is experiencing a renaissance of sorts.
Pittsburgh's Elderly Population
Everyone is familiar with Pittsburgh's reputation as an industrial town. As American industry moved offshore, many of Pittsburgh's jobs disappeared. Many of the hardworking industrial workers of Pittsburgh's past have remained in the greater Ohio Valley area. As a result, Pittsburgh has a large elderly population. These senior citizens are protected by Pennsylvania's rules an regulations governing long term care facilities.
Protecting Pittsburgh Senior Citizens from Elder Abuse and Nursing Home Negligence
Understanding the Different Levels of Care: Independent Living, Personal Care Home, Assisted Living and Nursing Homes in Pittsburgh
When a loved one's care needs become too much for a family to handle, it is usually recommended by doctors to place that person inside a long term care facility. There are varying levels of care provided to Pittsburgh seniors. The right facility depends on the patient's acuity level (how much care and supervision they require).
Independent Living Litigation
Independent living is the lowest duty of care provided to senior residents. Rarely if ever do we encounter viable independent living negligence lawsuits, since these facilities are not legally obligated to provide care to residents.
Personal Care Home Lawsuits in Pittsburgh
A relatively new legal designation in Pennsylvania, the personal care home is obligated to provide basic care and supervision to residents. A common Pittsburgh personal care home lawsuit involves allowing residents to suffer falls and broken bones.
Assisted Living Residence Negligence in Pittsburgh
An assisted living facility is a step up from a personal care home. Most of our Pittsburgh assisted living negligence lawsuits involve a failure to supervise and assist residents. This leads to harmful injuries, falls, eloping from the facility, resident assault, and in the most grave of scenarios, death.
Pittsburgh Nursing Home Abuse or Neglect Lawsuit
The skilled nursing facility (nursing home) is the highest level of care in the pyramid of extended care facilities. In Pennsylvania, nursing homes are subject to Chapter 211 of the PA Code. Commonly referred to as old folks homes or nursing homes, a skilled nursing facility owes the highest duty of care to its residents. This does not mean that every injury that takes place inside a nursing home is grounds for a lawsuit. However, because a skilled nursing facility has such an elevated legal duty to care and supervise its residents, many nursing home injuries are grounds for a claim.
Pittsburgh Nursing Home Abuse Lawyer
Unsure what happened to a family member inside an Allegheny County facility? Demand answers. Speak with a Pittsburgh Nursing Home Abuse lawyer now to begin your quest for justice.
Elder abuse is disgusting. When our most vulnerable seniors are abused, neglected, injured or killed, we owe it to society to hold the facility accountable. Through the filing of an Allegheny County nursing home lawsuit, you can help stop the cycle of abuse and neglect.
But What Good Will a Lawsuit Do?
It is true that a civil claim against the at-fault facility will only result in money damages. So why bother bringing a lawsuit if it is too late to prevent harm to your family member?
Those who have lived the nightmare of facility negligence understand that Pittsburgh area nursing homes and memory care facilities are grossly understaffed. Most of these facilities scrimp on staffing budgets in order to maximize profits.
Profits > People in the Corporate Nursing Home World
This profits before people approach is the cause for most injuries inside facilities. If a nursing home, personal care home or assisted living facility had sufficient staff to care for residents, most falls, bedsores and nurse errors would not occur. It is not that the daily caretakers are bad people, it is that the corporate owners routinely understaff the nursing home, setting the caretakers up for inevitable failure.
Money is the Motivation of Pittsburgh Nursing Home Understaffing
The reality is that most nursing homes and assisted living facilities understaff to make more money. Since money is the cause of the problem, the only way to balance the harm done is to take their much-desired corporate profits. A Pittsburgh nursing home negligence lawsuit allows a family to take the at-fault facility's money. This prompts an internal investigation on the part of the nursing home. If a CEO has to sign a $200,000 settlement check, he or she will undoubtedly make an angry phone call to the facility, instructing them to not let this kind of thing happen again.
Who Owns Western Pennsylvania's For Profit Nursing Homes?
Many of the Pittsburgh area nursing homes are a part of a larger corporate chain. Some of the larger corporate owners in the region are ProMedica Skilled Nursing and Rehabilitation, UPMC Senior Communities, Grane Healthcare, and Genesis. Our Pittsburgh nursing home abuse attorney has experience negotiating and handling claims against these corporate operators.
ProMedica Nursing Homes in the Pittsburgh Metropolitan Area
ProMedica nursing homes around Pittsburgh include:
ProMedica Skilled Nursing and Rehab Pittsburgh, 550 South Negley Avenue Pittsburgh, PA 15232
ProMedica Skilled Nursing and Rehabilitation Shadyside, 5609 Fifth Avenue Pittsburgh, PA 15232
ProMedica of Greentree, 1848 Greentree Rd Pittsburgh, PA 15220
ProMedica of Whitehall Borough, 505 Weyman Road Pittsburgh, PA 15236
ProMedica Rehab Bethel Park, 60 Highland Rd Bethel Park, PA 15102
ProMedica Skilled Nursing and Rehabilitation North Hills, 1105 Perry Highway Pittsburgh, PA 15237
ProMedica Peters Township, 113 W McMurray Rd McMurray, PA 15317
ProMedica of Monroeville, 885 MacBeth Dr Monroeville, PA 15146
ProMedica of Bedford, 136 Donahoe Manor Road Bedford, PA 15522
UPMC Senior Communities in Pittsburgh
Asbury Heights, Mt. Lebanon
Avalon Place, New Castle
Avalon Springs Place, Mercer
Canterbury Place, Pittsburgh
Cole Place, Coudersport
Cranberry Place, Cranberry Township
Haven Place, Lock Haven
Heritage Place, Squirrel Hill
Jameson Care Center, New Castle
Muncy Place, Muncy
Seneca Place, Penn Hills
Sherwood Oaks, Cranberry Township
Sugar Creek Station, Franklin
The Green Home, Wellsboro
Grane Healthcare Nursing Homes in Western Pennsylvania
Altoona Center for Nursing Care
Cambria Care Center
Colonial Park Care Center
Greensburg Care Center
HarmarVillage Care Center
Harmon House Care Center
Highland Park Care Center
Kittanning Care Center
LaurelWood Care Center
Providence Care Center
Riverside Care Center
Woodhaven Care Center
Genesis Healthcare Pittsburgh Area Facilities
Some Genesis nursing homes in the area include:
Bridgeville Rehabilitation & Care Center
Brightwood Center
Laurel Ridge Center
Madison Center
Tygart Center at Fairmont Campus
Where is your Pittsburgh Nursing Home Abuse Attorney Office?
Senior Justice Law Firm is centrally located in downtown Pittsburgh at 100 Fifth Ave Suite 409, Pittsburgh, PA 15222. Our office is located in the Diamond Building at the corner of Fifth Avenue and Graeme Street, right across from Triangle Park, just north of Market Square.
There is ample parking next to the Diamond Building. You can also take the bus using the Liberty Ave + Fifth Ave stop, or walk over from the Gateway subway station.
If you would like to come into our office, please coordinate this with our staff as in person meetings are by appointment only.
Speak With a Pittsburgh Nursing Home Abuse Lawyer
Before you decide on whether bringing a claim against the facility makes sense in your situation, speak with an experienced and compassionate Pittsburgh nursing home abuse lawyer. All calls, consultations and evaluations are completely free. There is no obligation to move forward with your case if you decide not to. We can also help you report your nursing home complaint to the PA Department of Health. Lastly, we only get paid if you make a financial recovery, so there is no issue as to whether you can afford to hire our Pittsburgh nursing home negligence attorney.
Demand Senior Justice Law Firm!
At Senior Justice Law Firm, our legal team's focus is on these kinds of cases. We are aggressive, compassionate and results-driven. Call us today to learn more about us, who we are and how we can help you with your potential Pittsburgh nursing home abuse case.
Free Case Consultation at 412-948-7300
---
Our elder abuse and nursing home negligence law firm accepts cases across the Pittsburgh, Pennsylvania area, including the Strip District, Oakland, Shadyside, Sewickley, Lawrenceville, East Liberty, Squirrel Hill and Bloomfield neighborhoods. We accept Western Pennsylvania nursing home abuse cases as far north as Erie County, PA and south to Greene and Fayette County, as well as neighboring West Virginia and Ohio counties.