Genesis Healthcare Nursing Home Abuse Lawsuit Information

Our Lawyers Sue Genesis Healthcare for Nursing Home Abuse & ALF Negligence. Our experienced nursing home abuse attorneys can help you sue a Genesis nursing home for negligence and wrongful death. Let our years of experience suing Genesis Healthcare and focus on this specialty practice area help you achieve justice on your case.
Call us today for your free Genesis case consultation to learn more about your rights:
(888) 375-9998
A Background on Genesis Healthcare
Genesis Healthcare is a massive, publicly traded corporation that is in the business of owning and operating nursing homes and assisted living facilities in more than 30 states. Genesis is one of the largest long term care companies in the U.S. and boasts annual revenues in the billions of dollars.
Genesis Operates Nursing Homes and ALF's to Make Money
Like all for profit nursing home corporations, Genesis Healthcare is in the business of making money. The stock symbol, GENN, is bought and sold by investors based on the company's profits. The way nursing homes and assisted living facilities make money is simple. With an increased census (number of residents in the building), revenue increases. By increasing revenue and decreasing overhead, the company becomes more profitable.
Genesis Nursing Homes Use a "A Byzantine Corporate Structure"
It has been alleged that Genesis nursing homes use a deeply complex corporate structure to help "skirt regulations" and "confuse consumers."
This graphic of Genesis Healthcare's corporate structure illustrates how many "discrete entities" and corporations are rolled up into the Genesis nursing home operation.
The complex corporate web of Genesis Healthcare was examined by the U.S. House Select Subcommittee on the Coronavirus when connecting the "horrors" at for-profit nursing homes with a lack of staffing.
The Pitfalls of a For-Profit Nursing Home Industry
More Residents = More Money
Empty facilities make no money. For this reason, Genesis Healthcare employs top notch salespeople who are skilled at encouraging families to place their loved one inside a Genesis facility. This too is common in the long term care industry.
Unfortunately, the promises made during the initial sales pitch do not always match the actual care provided to the resident. This is when families seek out a nursing home attorney to rectify a mistake that the facility may have committed.
Lower Staff Numbers = Lower Overhead
The largest expense in any nursing home is labor. Paying nurses, LPN's, CNA's and aides is by far the biggest cost on the budget. For this reason, for-profit facilities often keep staff numbers at a bare minimum.
All nursing home chains monitor their overhead and keep their facilities on a tight budget. Sometimes, when we investigate lawsuits against Genesis nursing homes and other facility chains, we find that there was not enough staff to care for the residents during the subject time period when our client was injured.
Understaffed Nursing Homes Have More Incidents of Falls, Pressure Sores, and Accidents
Numerous studies have shown that lower staff numbers lead to neglect-related injuries. If a facility accepts lots of high acuity residents, and provides low staff numbers, this is a recipe for disaster. There are simply not enough eyes and hands to help the high-needs residents. If you feel that your loved one's facility was understaffed, that might be the root cause of the problems inside the nursing home.
To be clear, we are not suggesting that all Genesis nursing homes are understaffed. In fact, we are not suggesting any Genesis nursing homes are short-staffed. Facility staffing numbers must be adjusted based on the residents' acuity level, which is always changing based on who lives in the facility that week. We are merely pointing out that, when we sue for-profit nursing home chains and conduct a staffing analysis, we oftentimes find the facility lacked sufficient staff numbers.
Recognizing Indicators of Abuse and Neglect Inside a Genesis Facility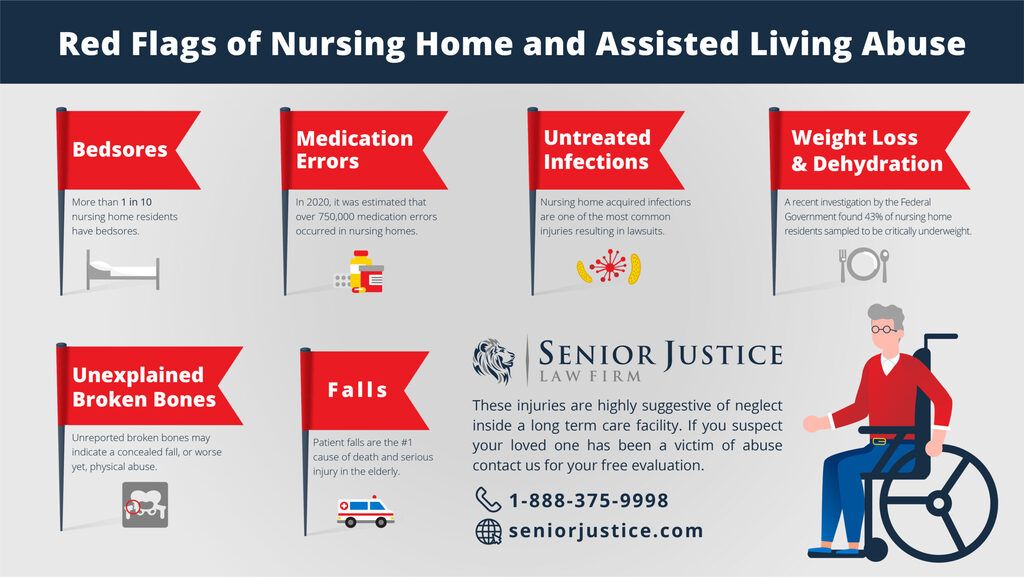 Bedsores, pressure ulcers or decubitus ulcers.
Falls resulting in broken bones.
Unexplained injuries, like undocumented fractures and brain bleeds.
Rapid weight loss.
Dehydration and malnutrition.
If your loved one experienced any of the above injuries inside a Genesis nursing home or assisted living facility, contact our compassionate and experienced elder abuse attorneys today to learn about your legal options. At Senior Justice Law Firm, nursing home neglect cases are all that we do. We are one of the few law firms in the nation that narrowly focus on this sub-specialty.
Call us today to learn more about your legal rights: (888) 375-9998.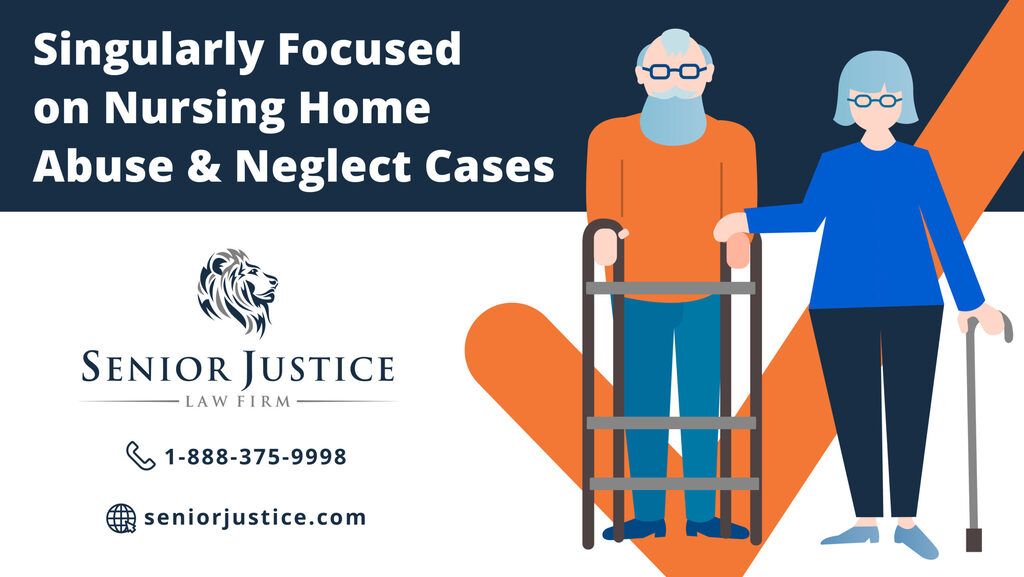 Prior Genesis Lawsuits
Our attorneys have successfully handled cases against Genesis Healthcare for allegations involving falls, broken bones, bed sores and wrongful death. Most cases settle before trial for a confidential sum of money, so we are unable to publish these results.
Publicly Available Genesis Nursing Home Lawsuits
Genesis has been held accountable for wrongdoing in civil lawsuit verdicts, which contain publicly available information.
Genesis Healthcare was ordered to pay more than $53 million dollars in a whistleblower lawsuit involving unnecessary services and false billing practices.
A Philadelphia jury awarded more than $5 million dollars in a punitive damage nursing home negligence case against Genesis Healthcare for a case involving infections, dehydration and wrongful death.
Genesis faced legal action in California regarding its company-wide staffing numbers inside its facilities. Although it denied any wrongdoing, Genesis Healthcare settled the nursing home understaffing lawsuit for $62.8 million dollars.
Disclaimer

*The above does not mean your loved one would be in harm at this facility. Each facility gets inspected often. Almost all facilities have deficiencies. Many face civil lawsuits. You should not make a facility placement decision based solely on the above information. Each case is different. Prior results do not guarantee a similar outcome or indicate an expected outcome on your particular case. The above prior lawsuit information is for informational purposes only and does not constitute legal advice. The information is not provided in the course of an attorney-client relationship and is not intended to substitute for legal advice from an attorney. This individual case information above is publicly filed information gathered from the publicly filed complaint. This information and these cases are not the work of this law firm. The inspection results are provided from public government agency surveys. The state Department of Health conducts a survey of all nursing home facilities at least once every 15 months. The deficiencies listed on this page may have been corrected after the date of the inspection and date of publishing this material. Citations, ratings and deficiencies are current as of the date of this post and will change later on. The inspection findings published are not complete. You may find the most up to date information at medicare.gov. This material is not endorsed by the facility or by any governmental agency. Speak with an attorney immediately if you believe you have a viable case against a nursing home, assisted living facility or medical facility.
What is My Genesis Nursing Home Lawsuit Worth?
There is no way to accurately predict the value of a nursing home injury or wrongful death case without learning more of the facts.
Factors that may increase the value of your case against Genesis are:
A relatively healthy victim;
Reckless conduct that may rise to the level of punitive damages;
A history of bad conduct that was ignored by facility management and Genesis;
A large amount of related medical bills; and,
A close knit family that visited the resident often.
Factors that may decrease your Genesis lawsuit value:
A resident with lots of comorbidities or a short lifespan;
Non-compliance with the care plan or doctor's orders;
The possibility that the injury was related to a naturally occurring disease process, not negligence;
A lack of supportive medical documents or testimony; and,
An uninvolved family that did not visit the resident.
If you are unsure whether you have a case against Genesis for nursing home abuse, our lawyers can help. Let our years of experience suing nursing homes, like this corporate defendant, guide you on your journey to justice.
Call us now for your free case consultation: (888) 375-9998.
Genesis Nursing Homes in Pennsylvania
The following Pennsylvania nursing homes are owned and/or operated by Genesis Healthcare. After years of reducing their bed count in Pennsylvania, in 2023, Genesis began adding nursing homes in the Commonwealth.
Brandywine Hall, West Chester, PA
Bridgeville Rehab and Care Center, Bridgeville, PA
Chapel Manor, Philadelphia, PA
Crestview Center, Langhorne, PA
Gettysburg Center, Gettysburg, PA
Hillcrest Center, Wyncote, PA
Hopkins Center, Wyncote, PA
Laurel Center, Hamburg, PA
Laurel Ridge Center, Uniontown, PA
Mifflin Center, Shillington, PA
Norritown Square Nursing and Rehabilitation Center, Norritown PA
Pennburg Manor, Pennsburg, PA
Quakertown Center, Quakertown, PA
Sanatoga Center, Pottstown, PA
The Belvedere, Chester, PA
Wayne Center, Wayne, PA
If your loved one was wrongfully injured inside a Pennsylvania nursing home, call our Philadelphia nursing home abuse attorney for a free claim consultation.
West Virginia Genesis Nursing Homes
The below facilities are West Virginia nursing homes operated by Genesis Healthcare:
Ansted Center 96 Tyree Street, P.O. Box 400 Ansted, WV 25812
Brightwood Center, West Virginia 840 Lee Road Follansbee, WV 26037
Canterbury Center, 80 Maddex Drive Shepherdstown, WV 25443
Care Haven Center 2720 Charles Town Road Martinsburg, WV 25405
Cedar Ridge Center 302 Cedar Ridge Road Sissonville, WV 25320
Dunbar Center 501 Caldwell Lane Dunbar, WV 25064-2026
Glenville Center, 111 Fairground Road Glenville, WV 26351-1388
Hampshire Center 260 Sunrise Boulevard Romney, WV 26757-6345
Heritage Center-West Virginia 101 13th Street Huntington, WV 25708
Hidden Valley Center 422 23rd Street Oak Hill, WV 25901
Hilltop Center 152 Saddle Shop Road Hilltop, WV 25855
Logan Center PO Box 540, 55 LMMH Center Road Logan, WV 25601
Madison Center 161 Bakers Ridge Road Morgantown, WV 26508
Marmet Center 1 Sutphin Drive Marmet, WV 25315
Miletree Center 825 Summit Street Spencer, WV 25276
New Martinsville Center 225 Russell Avenue New Martinsville, WV 26155-1572
Parkersburg Care Center 1716 Gihon Road Parkersburg, WV 26101-9655
Pierpont Center at Fairmont Campus 1543 Country Club Road Fairmont, WV 26554
Pine Lodge 405 Stanaford Rd. Beckley, WV 25801-3143
Pocahontas Center, 5 Everett Tibbs Road Marlinton, WV 24954
Putnam Center 300 Seville Rd Hurricane, WV 25526-9206
Raleigh Center 1631 Ritter Drive, PO Box 741 Daniels, WV 25832
Ravenswood Village 200 S. Ritchie Ave Ravenswood, WV 26164
Rosewood Center 8 Rose Street, Grafton, WV 26354
Salem Center, 255 Sunbridge Drive Salem, WV 26426-8400
Shenandoah Center 50 Mulberry Tree Street Charles Town, WV 25414
Sistersville Center 201 Wood Street Sistersville, WV 26175
Teays Valley Center 1390 N Poplar Fork Road Hurricane, WV 25526
Tygart Center at Fairmont Campus 1539 Country Club Road Fairmont, WV 26554
Valley Center 1000 Lincoln Drive South Charleston, WV 25309
White Sulphur Springs Center 345 Pocahontas Trail White Sulphur Springs, WV 24986
Willows Center 723 Summers St. Parkersburg, WV 26101
Wishing Well Assisted Living Community at Fairmont 1543 Country Club Road Fairmont, WV 26554
Bed sore, broken bones, or wrongful death in a WV facility? Speak with our West Virginia nursing home abuse attorney today for a free case consultation.
California Genesis Nursing Homes
Alexandria Care Center 1515 N. Alexandria Ave. Los Angeles, CA 90027
Alta Gardens Care Center 13075 Blackbird Garden Grove, CA 92843
Brier Oak on Sunset 5154 Sunset Blvd. Los Angeles, CA 90027
Sharon Care Center 8167 W. 3rd Street Los Angeles, CA 90048
Washington Center 14766 Washington Ave San Leandro, CA 94578-4220
Injury or wrongful death inside a Golden State facility? Our California nursing home abuse attorney represents families from LA to San Francisco.
Genesis Nursing Homes in Kentucky
Bradford Square 1040 US Highway 127 South Frankfort, KY 40601-4326
Bridge Point Center 7300 Woodspoint Drive Florence, KY 41042-1543
Colonial Center 2365 Nashville Road Bowling Green, KY 42101-4144
Edmonson Center 813 S. Main Street Brownsville, KY 42210-9009
Heartland Villa Center 8005 U. S. Highway 60 West Lewisport, KY 42351-7079
Hillside Center (KY) 1500 Pride Avenue Madisonville, KY 42431-9157
Hopkins Center 460 S. College Street Woodburn, KY 42170-9638
Kensington Center 225 St. John Road Elizabethtown, KY 42701-2918
Klondike Center 3802 Klondike Lane Louisville, KY 40218-1796
Magnolia Village 1381 Campbell Lane Bowling Green, KY 42104-1049
Regency Center 1550 Raydale Drive Louisville, KY 40219-5031
If your loved one was mistreated inside a Kentucky facility, call our Kentucky nursing home attorney to review your legal rights.
Maryland Genesis Skilled Nursing Facilities
Doctors Community Rehabilitation and Patient Care Center 6710 Mallery Drive Lanham, MD 20706
Fairland Center 2101 Fairland Road Silver Spring, MD 20904
Franklin Woods Center 9200 Franklin Square Drive Baltimore, MD 21237
Hammonds Lane Center 613 Hammonds Lane Brooklyn Park, MD 21225
Larkin Chase Center 15005 Health Center Drive Bowie, MD 20716-1017
Salisbury Rehab & Nursing Center 200 Civic Avenue Salisbury, MD 21804
Waldorf Center 4140 Old Washington Road Waldorf, MD 20602
If you suspect neglect in a mid-Atlantic healthcare facility, our Maryland nursing home neglect lawyer can help your family get justice.