Experienced & Compassionate Sacramento Nursing Home Abuse Lawyer: Here to Help Your Family
Free Sacramento Nursing Home Abuse Attorney Consultation
Elder abuse and neglect is inexcusable. If your family member was harmed inside a California long-term care facility, contact Senior Justice Law Firm to receive a complimentary Sacramento nursing home abuse lawyer case consultation.
Our law firm's focus is on nursing home negligence litigation. This is all we do.
Let our compassionate and experienced nursing home neglect lawyers guide you along the journey to justice. Call us at 916-777-0889 or live chat with our office now to speak with a Sacramento nursing home neglect attorney, and to learn your rights under California law.
Sacramento, CA Laws Protect Elderly Nursing Home Residents
Elderly individuals across America rely on nursing homes to provide them with the care they need in their later years. For some people, they do not have family members in the area to assist in caring for them. For others, more consistent supervision and help with day to day tasks is a benefit. Regardless of the reason, nursing homes across the country are seeing growing numbers of residents come through their doors.
Families typically expect that a nursing home will do whatever it takes to meet the needs of their loved one who goes to live there. Sadly, this is not always the truth—and in fact, it is fairly common for even nursing homes rated above the lowest rankings to receive citations for the level of care they provide. In Sacramento, because of the bustling population and appeal for its favorable weather and beautiful vistas, nursing homes are finding themselves overwhelmed with the number of people living in each facility. Understaffing and overfilling come together to result in less that acceptable care.
If you have reason to believe that someone you love may be being mistreated in a nursing home in Sacramento, you have multiple options for how to proceed. Let's review what nursing home abuse and neglect look like, as well as who to contact and how to go about recovering damages for these unacceptable events. Here's what you need to know.
Does Nursing Home Abuse Occur Often in Sacramento?
Sacramento is a popular place for older residents, either because they have lived in the area their entire lives or they choose to retire in a place with warm, sunny weather and a thriving city culture. While some of the nursing homes that meet these residents' needs do an excellent job, earning high marks from oversight bodies, many more score below average.
This evaluation is headed by the Centers for Medicare and Medicaid Services, or CMS, who publishes the results on their nationwide tool, Care Compare. Their rating system places each facility on a scale of one to five stars, with five being considered excellent and one considered much below average.
Of the nearly 100 nursing homes within 50 miles of the Sacramento city center, 29 are rated as below average or worse. That means that almost 30% of nursing homes in the area are presenting with substantial struggles to adequately care for the people in their facilities.
While these one- and two-star locations are the most often analyzed when discussing nursing home abuse and negligence, it is important to remember that even the best facilities can still fall short. As an example, McKinley Park Care Center in Sacramento, which rates at a maximum possible five out of five stars, still received three citations in a health inspection, including failing to properly monitor a resident who was on oxygen therapy.
So how do you tell that nursing home abuse or negligence is occurring? Being able to identify the warning signs and most common results of such behavior is critical for your family member. Here are some of the most common injuries that attorneys bring up in lawsuits for neglect and abuse in nursing homes.
Common Injuries Resulting in a Sacramento Nursing Home Abuse Lawsuit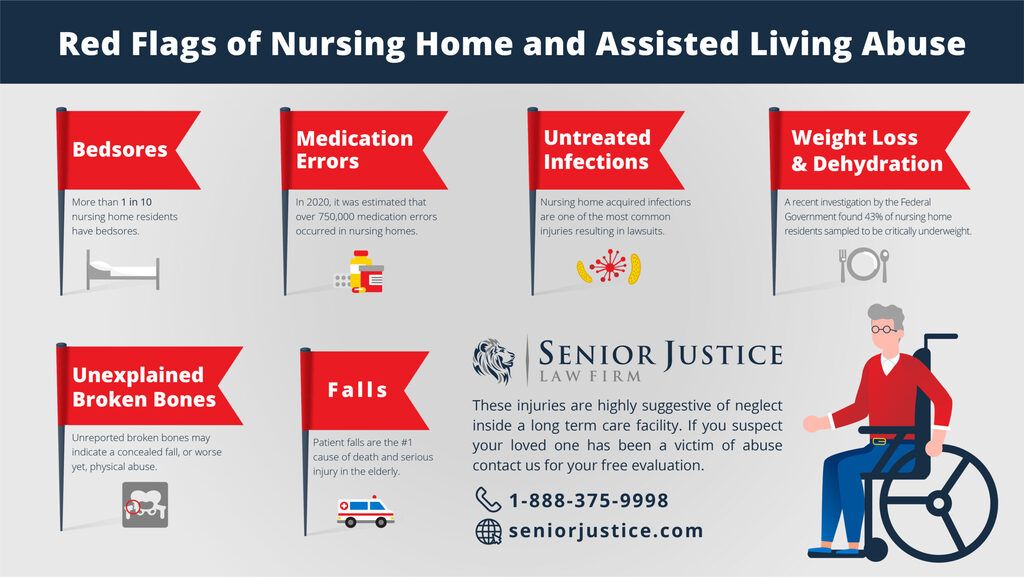 Sadly, nursing home abuse can take a wide variety of forms, both physical and emotional or mental. While the physical symptoms may (or may not) be apparent in most situations, other types of harm can be tougher to identify.
Bedsores are by far the most telltale sign of abuse or negligence in a nursing home. These are "never" injuries—in other words, there is no medical condition or diagnosis that causes bedsores. They are only ever the result of staff failing to care for someone properly. If you have noticed sores on your loved one and even confronted the nursing home about what you found, you may have been told that your loved one has diabetic ulcers. It is important to follow up with a medical professional so that bedsores can be properly identified. An at-risk resident must be turned and repositioned every two (2) hours. If the nursing home fails to reposition and bed sores develop, this is an example of elder abuse or nursing home negligence.
Patient falls are another indication that the nursing home is not doing its job properly. Each resident should be assessed for fall risk so that repeated falls can be prevented. Broken bones and even bleeding in the brain can prove fatal for older folks, and repeated falls are not a "normal" part of getting older. California regulations require that Sacramento nursing homes implement a fall prevention plan in at risk residents. This plan must include reasonable fall preventative measures. Oftentimes, when our Sacramento nursing home abuse lawyer examines a chart in a fall case, the fall precautions are severely lacking.
Unfortunately, even sexual abuse is not unheard of in nursing homes. This may come at the hands of staff, or it may happen if other residents are not properly supervised. Both of these, in the end, are usually preventable through appropriate nursing home supervision. Any allegation or suspicion our rape or sexual abuse should be promptly investigated and reported.
When it comes to mental and emotional trauma, the signs may be more difficult to detect—especially if the person you love suffers from an aging-related disease that impacts their memory, like dementia or Alzheimer's. They may not be able to recall, either in part or entirely, situations in which they have been abused or mistreated. Instead, they may present with more subtle indicators, like nervousness around staff or agitation when certain staff members are nearby.
Sometimes, they may seem to talk a lot less than they used to, or they might develop depression or anxiety that was not a problem before. All of these things could be signs that they are not being treated with care and compassion.
Unfortunately, sometimes family members discover the potential neglect too late. The most common cause of action filed by our Sacramento nursing home abuse lawyer is for wrongful death. If a nursing home's negligence causes your loved one to pass away, California law allows you to still bring a lawsuit, even after their death.
What Should I Do if I Suspect Neglect Inside a Sacramento Facility
If you believe that your family member is being abused or neglected in a nursing home, the very first thing you should do is ensure their immediate safety. If they are having a medical emergency, do not wait for the nursing home to respond; you may summon an ambulance yourself.
Once your loved one has been taken out of the dangerous situation, you can take longer-term action to report on what occurred. Exactly what route this takes will vary from state to state; in California, the Department of Justice works with local organizations to field complaints against nursing homes.
You will also have access to an ombudsman in your area, or you may reach out to the statewide ombudsman program to receive help in being directed to the appropriate center. The numbers and contact information for all of these resources is provided below.
Once you have properly filed all of the documentation regarding your loved one's mistreatment or neglect, you can also seek legal guidance. Some families are interested in recovering damages in the case of their loved ones, while others would like to just put the situation in the past and move on. Regardless of your end goals, a lawsuit can be a powerful tool that turns this terrible situation into a force for change.
If you need help paying bills associated with the abuse, like medical costs, therapy, or even funeral expenses, a lawsuit can recover these for you. It can also simply compensate you for the pain and suffering associated with the neglect.
However, even if these monetary damages are of no interest to you, your lawsuit can levy punitive damages—or fees that are meant solely with the intent to punish the nursing home. Because most facilities run on razor thin profit margins, they are highly incentivized to amend their behavior so that they are not forced to pay out hefty settlements to aggrieved families again. This helps to ensure that others living at the nursing home are not subjected to the same treatment that your family member endured.
Sacramento's Nursing Home Negligence Laws
All nursing homes across the country are bound by certain federal rules that establish a minimum standard of care for residents. These can be broadly defined as what is "generally reasonable"—in other words, would most people in the same situation behave the same way? If not, you may have a case for nursing home negligence or abuse.
However, Sacramento nursing homes are also bound by statewide laws and regulations as well. Many of these mandates are simple when it comes to filing a lawsuit. You will need to prove that the nursing home did in fact have an obligation to care for your loved one—which is easily proven by providing intake paperwork. You will also need to prove that the harm that your family member suffered was caused by facility staff's actions or inactions, and that those actions/inactions were unreasonable.
Sometimes, our Sacramento elder abuse lawyer is able to link the staff's poor care to a lack of adequate staff in the facility. It is well-accepted in the long term care system that understaffed nursing homes cause harm to residents. If our legal team can establish that the corporate parent company of the facility put profits ahead of people and deliberately understaffed the nursing home to make more money, the Court may allow for punitive damages.
Additionally, Sacramento victims benefit from the Elder Abuse and Dependent Adult Civil Protection Act passed by California legislators, which expands the ability for bringing a nursing home abuse case.
How to Report Nursing Home Abuse in Sacramento
Reporting nursing home abuse goes beyond simply alerting staff at the affected nursing home. Every state is federally mandated to maintain an ombudsman program, which specifically defends and protects those who rely on assisted living facilities, nursing homes, and the like for their wellbeing.
The ombudsman in California is managed by the Department of Aging. Their general information line can be reached at 1-800-510-2020, but if you need to make a report about abuse or negligence occurring right now, call the CRISISline at 1-800-231-4024. You can also view the ombudsman's online interactive map to choose the county in which you live and find local resources. The ombudsman for Sacramento county itself can be reached at (916) 498-1000.
The Department of Public Health and Department of Justice are also interested in hearing about nursing home abuse. The Bureau of Medi-Cal Fraud & Elder Abuse (BMFEA) can be reached at 800-722-0432, but it is highly recommended that you send a physical copy of your complaint at the same time to create a paper trail. This documentation can be mailed to the California Department of Justice, Office of the Attorney General, Bureau of Medi-Cal Fraud and Elder Abuse, P.O. Box 944255, Sacramento, CA, 94244-2550.
If it is more convenient, you may also file your complaint online.
Sacramento Nursing Home Abuse & Neglect News
Sacramento is full of nursing homes whose standard of care falls below acceptable standards on a regular basis. Sadly, not all of them are reported. Those that are sometimes make the news, as was the case for Eskaton FountainWood, The Sacramento Bee reports. Resident Barbara Lovenstein was admitted to the facility for short-term rehabilitation, but she passed away as a result of the staff repeatedly giving her an Ativan prescription—even when her doctor instructed them not to do so. The lawsuit brought by the family secured $42.5 million in damages.
Nearby, Roseville Point Health & Wellness Center was brought under fire for its staffing decisions. The allegations state that the facility was intentionally understaffing in order to keep more of its profits rather than paying them out in payroll. This practice is fairly common, as most nursing homes are run by for-profit conglomerates or administrators. Their primary means of income is by billing Medicare—which is why this and other facilities were also called into question for their methods after it was discovered that they appeared to be preferentially selecting Medicare recipients from whom they could secure more money.
Speak with a Sacramento Nursing Home Abuse Attorney Today
If you suspect your loved one was neglected inside a nursing home, do not delay in speaking with our California elder abuse attorney today. We can assist you in reporting the incident to the proper California agencies, and investigating what really happened.
We never require an out of pocket payment from you, for our attorneys' fees or our costs. Instead, we work on contingency fee. This means we only get paid if we win your case. If we do recovery money for your family, we accept a percentage of the recovery as payment for our fees, plus deduct costs. In other words, you do not need to pay us anything to retain our Sacramento nursing home abuse lawyer.
To make the most of your free case consultation, please share as much detail as possible with our intake team. As a reminder, we need your name, contact information, your loved one's name, the facility name, and the injuries your loved one sustained.
Here is the best way to consult with our Sacramento nursing home abuse lawyer. Call us now at 916-777-0889, submit your case facts via the submission form below, or live chat with our office now.