Narrowly Focused Nursing Home Attorneys Representing Aggrieved Families in San Francisco Bay Area, Oakland & San Jose
Searching for the right San Francisco nursing home abuse attorney? Demand Senior Justice!
Elder abuse and neglect litigation is our law firm's focus. This is literally all we do.
Our nursing home abuse lawyer represents victims throughout the San Francisco Bay Area. We are here to help your family achieve justice following abuse or neglect in a San Francisco nursing home or assisted living facility. We also have offices in Los Angeles and San Diego.
Free Bay Area Elder Abuse Case Consultation
Unsure on your next steps? Consult with our experienced law firm to learn more about your legal rights under California law. Call, live chat, or submit your case facts below. At Senior Justice Law Firm, we are here to help. Let our years of experience in this narrow practice area guide you on your journey to justice.
Senior Justice Law Firm
2211 Post St San Francisco, CA 94115
(415) 840-8808
The Golden Gate City Has a Lackluster Record for Nursing Home Care
From the gold rush to the tech boom, people have flocked to San Francisco for generations in search of better opportunities for their families and themselves. As the city's population has grown, so has that of the Bay Area, with the counties of Alameda, Contra Costa, Marin, Napa, San Mateo, Santa Clara, Solano, and Sonoma combining with the City and County of San Francisco to now contain nearly 8 million people. Senior citizens are the fastest growing age group in the region, and you can find more senior care facilities in the Bay Area's three most populous cities of San Francisco, San Jose, and Oakland than almost anywhere else in California.
Unfortunately, cases of abuse and neglect in Bay Area nursing homes are on the rise as well. San Francisco area nursing homes as a group are the second-lowest rated in the state, only ranking slightly higher than LA facilities.
If you suspect neglect, abuse, or even wrongful death at a nursing home in the San Francisco Bay Area, our experienced nursing home abuse legal team is available to discuss your legal rights in a completely free and confidential consultation. Unlike other San Francisco law firms, our firm's sole focus is combating this trend of elder abuse through the pursuit of justice for wrongfully injured nursing home residents.
A Bay Area nursing home negligence lawsuit can expose harmful conditions in a nursing facility, and prevent future harm to vulnerable residents. If your loved one was wrongfully injured or killed, be a voice for the voiceless and take action now. Speak with our San Francisco nursing home abuse lawyers today to learn about your options.
Identifying Abuse or Neglect in San Francisco Nursing Homes and Assisted Living Facilities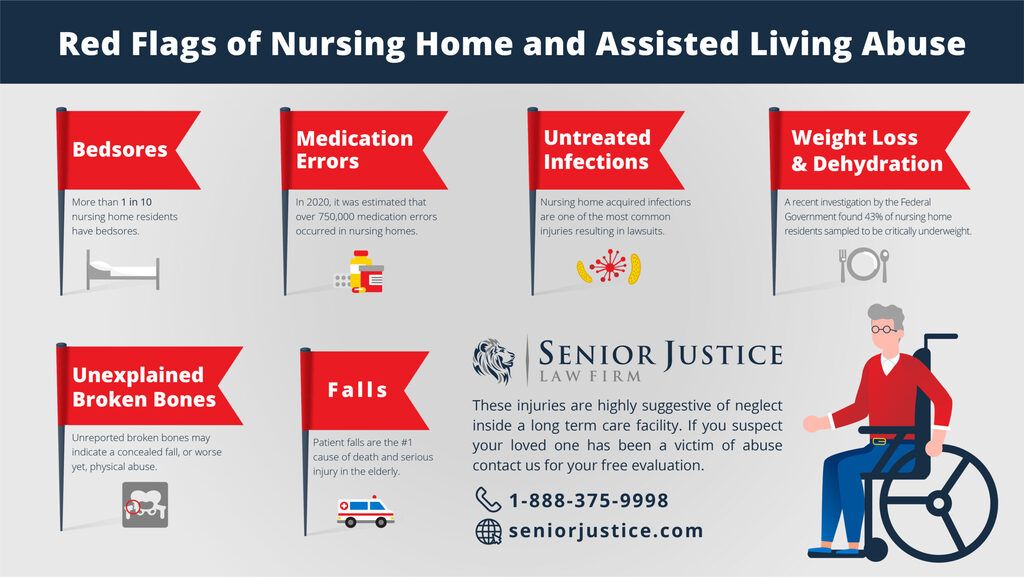 Only a small fraction of nursing home abuse in the Bay Area ever gets reported. One reason is that victims often suffer from dementia or confusion, making them unable to verbalize how they may have been abused. They may also be afraid of the repercussions of reporting abuse or feel too ashamed to admit what happened. If families were better equipped to recognize elder abuse and were proactive in reporting it, then the elderly would be much better protected in California's long term care system.
Keep the following warning signs of abuse in mind whenever you visit an elderly loved one in a San Francisco nursing home:
Lack of basic amenities
Unsanitary or cluttered living space
Dehydration and weight loss of more than 10% of their weight
Sudden unexplained behavioral changes
Unexplained sexually transmitted diseases or signs of sexual abuse
Unpaid bills, new credit cards, and/or increased cash withdrawals
High white blood cell count, fevers, change in skin color, and signs of untreated infection
Uncommunicative about care or individual(s) responsible for care
New injuries, bruising, or unexplained fractures
If you identify any signs of nursing home abuse it is important to act quickly to report them. If your loved one was hospitalized for any of the above conditions, speak with our Bay Area nursing home abuse attorney today. The above injuries are strongly suggestive of neglect or poor care.
Our San Francisco nursing home abuse lawyer is available to assist you with getting the answers you need on how to report abuse. We can aid in the investigation into what happened to your loved one inside a Bay Area facility and ensure you achieve justice following a wrongful injury or death.
Quality Senior Care in San Francisco is Out of Reach for For Many Bay Area Residents
While elderly citizens are expected to comprise nearly a third of San Francisco's population within the decade, the city is struggling to properly accommodate them. High-quality care should be available to every senior, but with 14% of the city's elderly being "severely poor" or living below the federal poverty line according to the San Francisco Dept. of Aging and Adults Services (DAAS), far too many are suffering due to an inability to afford the care they need. As healthcare and housing costs in San Francisco continue exceeding national averages by a wide margin, even more pressure is being placed on the city's already vulnerable older population.
But it is important to remember that even the most expensive or seemingly luxurious nursing homes and assisted living facilities may neglect and abuse their patients. Loved ones and guardians of nursing home residents must therefore always be on the lookout for the warning signs of mistreatment.
Understanding Your Legal Rights After a San Francisco Nursing Abuse Injury or Wrongful Death:
Frequently Asked Questions
How Do I Report Nursing Home Abuse in San Francisco and the Bay Area?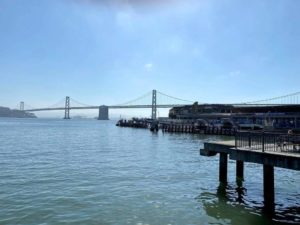 If you believe your elderly loved one is in immediate danger or faces an immediate health risk, then you should call 9-1-1. If you need assistance reporting San Francisco elder abuse, you can reach out to our firm at (415) 840-8808. We are happy to guide you along the process.
For non-emergencies, you can report Bay Area elder abuse to your local Adult Protective Services (APS) county office. Below are the phone numbers to call to report elder abuse in every county in the San Francisco Bay Area:
Report Elder Abuse or Nursing Home Neglect in San Francisco
San Francisco City and County 24-hour abuse hotline: (800) 814-0009 or (415) 355-6700
Report Nursing Home Abuse in Alameda County
Alameda County (Oakland) 24-hour abuse hotline at (866) 225-5277
Report Nursing Home or Assisted Living Facility Malpractice in Contra Costa County
Contra Costa County 24-hour abuse hotline: (877) 839-4347 or (925) 602-4179
Report Elder Abuse & Neglect in Marin County
Marin County 24-hour abuse hotline: (415) 473-2774
Report Nursing Home Abuse in Napa County
Napa County 24-hour abuse hotline: (888) 619-6913
Report Elder Abuse in San Mateo County
San Mateo County 24-hour abuse hotline: (800) 675-8437
Report Neglect or Abuse of a Vulnerable Senior in Santa Clara County
Santa Clara County (San Jose) 24-hour abuse hotline: (800) 414-2002
Report Nursing Home Neglect in Solano County
Solano County 24-hour abuse hotline: (800) 850-0012
Report Elder Abuse in Sonoma County
Sonoma County 24-hour abuse hotline: (800) 667-0404
Is Reporting Elder Abuse Required by Law in San Francisco?
"Mandated reporters" are required by law in San Francisco and throughout California to report known or suspected elder abuse. Any person who is fully or intermittently responsible for the care or custody of an elder adult, whether they receive compensation or not, is considered a mandated reporter. The administration and staff of nursing homes fall into this category, as do in-home support service providers, law enforcement, and other healthcare practitioners. Mandated reporters who fail to report elder abuse in San Francisco may face jail time, a fine, or both.
When in doubt, if you believe you witnessed intentional abuse or the withholding of care of a senior citizen in the Bay Area, report the abuse or neglect immediately.
What Constitutes Elder Abuse in San Francisco?
California Penal Code 368 PC outlines elder abuse as a category of crimes that inflict suffering upon a victim aged 65 or older. Such crimes can take many different forms, including financial abuse, physical abuse, emotional abuse, withholding of care or services, sexual abuse, neglect, isolation, abduction, and abandonment. The penal code outlines specific penalties for perpetrators of elder abuse that depend on the circumstances of each case, ranging from fines of $1,000 or more to prison sentences.
In addition to criminal punishment for elder abuse in California, families can seek justice through a civil lawsuit. A San Francisco nursing home neglect lawsuit can bring your family money damages, as well as answers on what happened to your loved one.
What is my San Francisco Nursing Home Abuse Case Worth?
Many clients are curious if it is 'worth it' to bring a San Francisco nursing home abuse lawsuit. We often are asked about case value and expected settlement amounts. Many of our potential clients are fearful that elder abuse cases lack value because the victim was old. This is not true. With the right case facts and the appropriate experts, Bay Area nursing home negligence cases can be highly valued.
Bay Area nursing home settlements range from $50,000 on the low end, to upwards of $1,000,000 on the high end. Some San Francisco area nursing home negligence verdicts are in excess of $2 million. Bay Area juries sympathize with wrongfully neglected seniors, and for that reason, the San Francisco / Oakland metro area consistently ranks as one of the best venues to try a nursing home negligence case. Nursing home corporations recognize their exposure to a large verdict in this area, and because of this, settlement values of San Francisco nursing home neglect cases are comparatively higher than most of the U.S.
The value of the case, and the time it takes to get that settlement or verdict, truly depend on your individual case facts and the willingness of the defendant facility to pay your family for the harm it has caused.
Our San Francisco nursing home abuse attorneys are unable to give you a value of what your case is worth without seeing the medical records first. Usually, after we intake a potential new case, if it meets our threshold criteria, we will sign up the case and request medical records. After we have had the relevant records reviewed, we can help you in estimating what your San Francisco nursing home injury lawsuit is worth.
Why Do I Want a Lawyer that Focuses on San Francisco Nursing Home Cases?
Simply put, a lawyer that specializes in nursing home abuse gives you the best chance at achieving justice in your case. Claims for nursing home abuse and neglect throughout California are governed by the state's Elder Abuse and Dependent Adult Civil Protection Act (Elder Abuse Act). A lawyer specifically devoted to nursing home abuse cases in California is accustomed to navigating the complexities of the Elder Abuse Act. They have the necessary experience to identify conduct that would be considered abuse as envisioned in the statute and are able to properly bring forth evidence that will meet the higher standard of proof that is required to successfully pursue a claim.
What Damages are Available Under California's Elder Abuse and Dependent Adult Civil Protection Act?
California's Elder Abuse and Dependent Adult Civil Protection Act provides enhanced remedies to be awarded to plaintiffs if they are successful in proving their case. The Elder Abuse Act allows for normal pain, suffering, and medical bills, but also provides for the awarding of attorney fees if the plaintiff wins their case. The Elder Abuse Act's attorneys' fee provision gives law firms a financial incentive to take on more elder abuse cases. Additionally, if a California nursing home acts with "recklessness, oppression, fraud, or malice in the commission of the abuse," additional damages beyond ordinary pain and suffering become available to the plaintiff.
Should I Retain a San Francisco Bed Sore Lawyer?
Bed sores are the most common elder abuse injury that we litigate. At Senior Justice Law Firm, about half of our caseload involves bed sores and pressure ulcer injuries.
The reason for this is that bed sores are so easily prevented. In fact, a large bed sore (stage 3, stage 4, or unstageable) is a "never event" in healthcare, meaning it should never happen.
If your loved one developed a bed sore or pressure injury inside a San Francisco nursing home or hospital, contact Senior Justice Law Firm today. It is very likely they were not being repositioned enough in bed, and this failure to reposition caused their skin to breakdown into an open wound.
A pressure ulcer or bed sore is not an acceptable outcome of any hospitalization or facility residency. Speak with our experienced San Francisco bed sore lawyer today to learn more about your rights under California law.
How Are San Francisco Nursing Homes Licensed and Regulated?
The California Department of Public Health is responsible for inspecting and licensing the state's nursing homes. The agency is also responsible for reviewing and investigating complaints against nursing homes and all other healthcare facilities in California.
How Do I File a Complaint Against a San Francisco Bay Area Nursing Home?
You can file a complaint against any healthcare facility, including nursing homes, through the California Health Facilities Information Database (Cal Health Find). Your complaint will be directed to the local agency that has oversight authority for the nursing home.
How Can I View Nursing Home Complaint Surveys to See if a San Francisco Nursing Home Has Been Cited for Abuse or Neglect?
Cal Health Find allows you to search for any nursing home in California and review its inspection history. Additionally, Medicare's Nursing Home Compare website is a free, publicly-available resource for accessing nursing home survey reports and information on whether a facility has been cited for abuse.
Both resources are good starting points when deciding which nursing home may be best for your elderly loved one. But remember, abuse is possible at any nursing home, regardless of how positive its reviews or inspections may appear. Always try to visit facilities in-person and seek references from trusted family members, friends, and healthcare professionals.
What Services Are Available to Help San Francisco's Non-English-Speaking Elderly Residents?
In a city as diverse as San Francisco, ensuring the elderly population receives the care it needs can be complicated by the fact that more than half of the city's older adults speak a primary language other than English. It can be a struggle for these individuals to access the information they need, and caregivers may lack the ability or interest in effectively communicating with them.
The Aging and Disability Resource Center (ADRC) of San Francisco helps elderly non-native English speakers access the resources they are entitled to with information and referrals related to caregiver assistance, medical care, mental health services, food & nutrition, and more. The ADRC has 14 locations across San Francisco and each location has different language capabilities, including Cambodian, Spanish, Mandarin, Cantonese, Portuguese, Russian, Samoan, and American Sign Language.
How Can I Get to Your San Francisco Nursing Home Abuse Law Firm Office?
Our San Francisco office is located at 2211 Post Street San Francisco, CA 94115 in the Lower Pacific Heights neighborhood near the UCSF Medical Center at Mount Zion. We are on the third floor and there are stairs, as well as wheelchair-accessible elevators.
Our office is located on the corner of Post Street and Scott Street, just north of Geary Boulevard.
There is a parking lot behind the building, and there are plenty of parallel parking spots in front of the building. If you plan on taking transit, there is a nearby SFMTA stop and an SF Muni stop at Geary Blvd. and Scott St.
Please make an appointment before visiting our office.
How is San Francisco Protecting Nursing Home Residents from COVID-19?
The families of San Francisco's nursing home residents have reason to be concerned about COVID-19's potential impact on their elderly loved ones. Nursing home residents are more susceptible to the disease due to their age, pre-existing health conditions, and close physical contact with caregivers and other residents.
The state and city have implemented regulations that San Francisco's nursing homes must follow to protect their residents, which includes mandated reporting of COVID-19 cases and deaths among their residents. Facilities are also required to report staffing levels and shortages, personal protective equipment (PPE) supply, and staff hospitalizations and deaths.
You can view the number of COVID-19 cases and deaths among San Francisco's nursing home residents with this tracker on the city's website. For a more detailed view of all COVID-19 cases and deaths in nursing homes throughout the San Francisco Bay Area, you can view this webpage from the California Department of Public Health, which is searchable by facility name.
San Francisco Nursing Home News – City Files Lawsuit Over Forced Closure of its Largest Nursing Home
A persistent issue in the nursing home industry is the fact that so many facilities are owned by for-profit corporations that tend to prioritize the profits of their shareholders over the well-being of their patients. But simply avoiding privately-owned facilities does not shield the elderly from risks, as evidenced by the recent turmoil at Laguna Honda, San Francisco's largest nursing home, which was founded over 150 years ago and is owned by the city.
After federal officials concluded that Laguna Honda was providing "substandard care" to its patients, the federal government cut funding to the facility and ordered the city to transfer or discharge all its patients. Tragically, San Francisco City Attorney David Chiu stated that at least nine patients have died days or weeks after being ousted from the facility, and city officials have warned that many other patients may be endangered by the federal government's demands if carried out. San Francisco filed a lawsuit against the federal government over its decision, and former City Attorney for the City and County of San Francisco, Louise Renne, has also filed a class action lawsuit against the state and federal government on behalf of Laguna Honda's patients and families.
Regardless of the outcome of the lawsuits involving Laguna Honda, it cannot be ignored that the overall quality and safety of nursing homes in San Francisco need to improve. While there are numerous high-quality elder care facilities across the Bay Area, far too many others have been cited for abuse or have failed to meet the standards of care set forth by state and federal law. San Francisco's elderly citizens deserve better, but without action, substantive change will never take place.
Free San Francisco Nursing Home Abuse Lawsuit Consultation
Speak with our qualified, experienced, and compassionate San Francisco nursing home abuse lawyer today. At Senior Justice Law Firm, we narrowly focus on these kinds of cases and we would like to help your family get justice after being wronged by a Bay Area healthcare facility.
Live chat with our office using the chat box, submit your case facts using the submission form below, or call us to speak with our law firm now at (415) 840-8808.