Legal Help from an Experienced Los Angeles Nursing Home Abuse Attorney
Our nursing home abuse lawyer represents victims throughout Los Angeles and Southern California. We are here to help your family achieve justice following abuse or neglect in an LA nursing home or assisted living facility.
At Senior Justice Law Firm, elder abuse cases are all that we do. Let our law firm's focus and experience guide your family on the journey to justice.
Bed sores, fractures, infection, and wrongful death are not acceptable outcomes of a healthcare residency. If you suspect your loved one's needs were neglected inside a California facility, consult with our Los Angeles elder abuse attorney today.
All consultations are free and we never require an out-of-pocket payment. We work on a contingency fee, so we only get paid a percentage of the settlement or judgment, if a recovery is made.
Start the conversation today. Contact, live chat, or call Senior Justice Law Firm now to receive your free Los Angeles nursing home abuse attorney case consultation: toll free at (888) 375-9998 or locally at (213) 297-5277.
Senior Justice Law Firm – LA Office
360 E 2nd St, Los Angeles, CA 90012
Local: (213) 297-5277
How to Recognize Abuse in LA Nursing Homes and Assisted Living Facilities
Elder abuse in LA oftentimes flies under the radar. Victims are usually nonverbal due to dementia or confusion. As the patient's representative, you should be on the lookout for common warning signs of potential elder abuse:
Lack of basic amenities
Unsanitary or cluttered living space
Sudden unexplained behavioral changes
Unexplained sexually transmitted diseases
Unpaid bills, new credit cards, and/or increased cash withdrawals
High white blood count, fevers, change in skin color, and signs of infection
Uncommunicative about care or individual(s) responsible for care
New injuries or suspected injuries
The sad reality in LA and throughout the rest of the country is that most nursing home abuse goes unreported. Not enough people are well-educated about the common warning signs and the resources available for reporting neglect.
If you have questions, our LA nursing home abuse attorney is available to assist you with getting the answers you need. We can aid in the investigation into what happened to your loved one inside a facility and ensure that you achieve justice following a wrongful injury or death.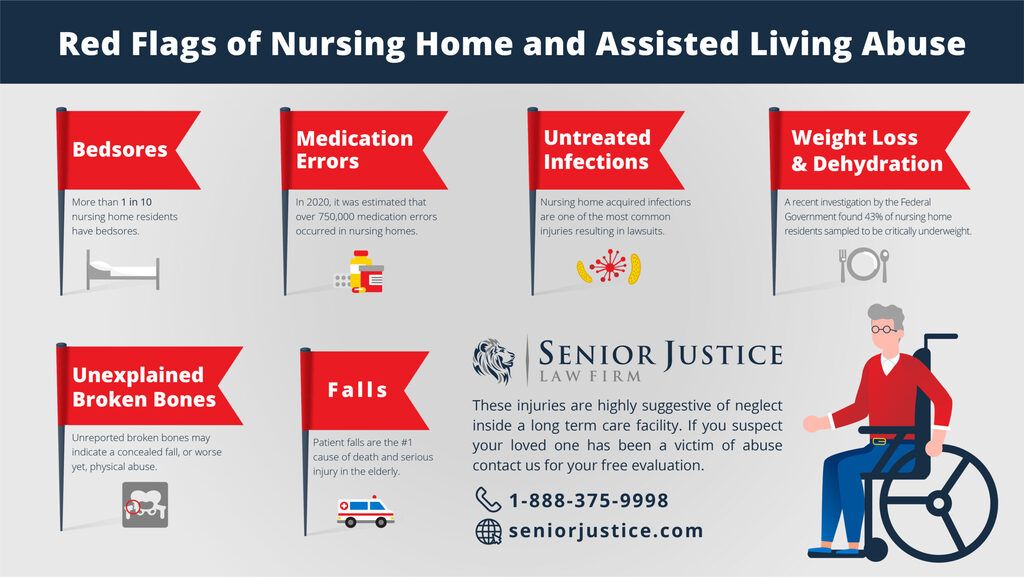 Los Angeles Nursing Home Abuse Law Office
Senior Justice Law Firm – Los Angeles Office
360 E 2nd St, Los Angeles, CA 90012
(213) 297-5277
Our Los Angeles office is conveniently located in Downtown LA, between 2nd Street and 3rd Street, just east of San Pedro Street, near the James Irvine Japanese Garden at JACCC next to Little Tokyo.
From this location, we represent families impacted by elder abuse across Southern California, including Santa Monica, San Diego, Long Beach, Santa Clarita, Irvine, Glendale, and Santa Barbara.
Cannot make it into our office? Coordinate a Zoom meeting, Skype, Facetime, or conference call with our LA nursing home abuse lawyer.
We understand that this is a difficult chapter for you. Our firm desires to make this process as convenient as possible for you and your family.
Call us now to receive a completely free consultation on your Los Angeles elder neglect lawsuit.
LA is Home to Great Weather and Poor Nursing Home Care
Warm weather, stunning landscapes, and abundant economic opportunities have attracted new residents to LA for well over a century, spurring its growth from a sleepy farming town to a vast metropolis. Los Angeles County, which contains LA, is comprised of nearly 100 incorporated cities, including Long Beach, Santa Clarita, Glendale, Lancaster, and Pasadena. But while the studios in Hollywood project an image of endless youth, LA's elderly population is growing quickly, and nearly a third of California's nursing homes can be found in LA.
Elder care facilities should be safe places for seniors to live with dignity and be treated with respect. Unfortunately, cases of elder abuse and neglect in LA facilities are a rising problem. Unlike other LA law firms, our firm's sole focus is pursuing justice for wrongfully injured nursing home residents. If you suspect suffering, abuse, or even wrongful death at an LA nursing home, our experienced Los Angeles nursing home abuse lawyer is available to discuss your legal rights in a completely free and confidential consultation.
Los Angeles Laws on Nursing Home Abuse and Neglect
California's elderly population growth is more apparent in Southern California than almost anywhere else in the state. According to California Department of Finance projections, Los Angeles County and its neighbors Orange County and Ventura County will all experience greater than 100% increases in their 60+ aged populations between 2010 – 2060. Recognizing the need to protect this growing group of vulnerable citizens, California has adopted strict measures to fight against elder abuse and neglect throughout the state.
The Elder Abuse and Dependent Adult Civil Protection Act, or Elder Abuse Act, was enacted in California in 1982, and it was one of the first laws in the US specifically designed to help seniors fight back against abuse. In 1991, the Elder Abuse Act was amended to create additional incentives for prosecuting abusive individuals and facilities. The amendment made it possible for plaintiffs in elder abuse cases to be awarded greater financial sums through the collection of attorney costs, punitive damages, pain and suffering, and more if they can prove their cases in court.
California's Elder Abuse Act covers physical, psychological, and sexual abuse, as well as neglect, abandonment, abduction, financial exploitation, or any other form of treatment that may cause physical pain or mental suffering. Knowing how to recognize these types of abuse is one of the most important steps you can take in protecting your elderly loved one in an LA nursing home.
How to Report Nursing Home Abuse in Los Angeles
If you believe your elderly loved one is in immediate danger or faces an immediate health risk, then your first step should be to call 9-1-1. For non-emergencies, there are various resources you can use to report elder abuse online or over the phone in LA. Adult Protective Services of LA County has a team available 24 hours a day, 7 days a week to respond to abuse reports.
To report elder abuse in LA:
Call the Los Angeles County Elder Abuse Hotline at: (877) 477-3646
Report elder abuse online through the Los Angeles County Adult Protective Services web form
To make a complaint about the conditions in an LA nursing home or assisted living facility:
Call the local Long-Term Care Ombudsman hotline at: (800) 334-9473
Call the 24-hour State of California CrisisLine at: (800) 231-4024
To file a complaint against an LA healthcare facility licensed by the California Department of Public Health, including Los Angeles skilled nursing facilities, adult day healthcare facilities, rehabilitation facilities, and hospice facilities:
Call or write the Center for Health Care Quality, Licensing and Certification District Office in LA.
Los Angeles District Offices Administrative Headquarters
Health Facilities Inspection Division Administration
12440 E. Imperial Highway, Rm 522
Norwalk, CA 90650
Phone: (562) 345-6884
Email: CDPH-LNC-LOSANGELES@cdph.ca.gov
Do Not Delay in Reporting Los Angeles Nursing Home Abuse
You should report Los Angeles nursing home neglect as soon as possible if you are concerned about poor care inside a Southern California facility. Reports can be made with complete confidentiality, and there is no penalty for reports made in good faith that do not turn out to be abuse. In other words, you will not be punished for making the report, even if authorities do not agree that the incident rises to the level of a citable act or omission.
The Elder Abuse Act mandates reporting instances of abuse for individuals who have full-time or intermittent responsibility for an elderly/dependent adult, and their failure to report abuse in LA County can result in imprisonment for up to 6 months, a fine of up to $1,000, or both.
If you suspect neglect in an LA facility, do the right thing and report the negligence to the appropriate authorities. If you are struggling with this task, our Los Angeles nursing home lawyer can assist you.
Choosing the Best Nursing Home in Los Angeles
It is essential to be fully informed as you help your loved one transition into the care of a nursing home or assisted living facility. Often the best source of information can be a reference from a trusted friend or family member, but this may not always be possible.
Visiting nursing homes in-person is also a good idea, but visitations only provide a limited snapshot into a facility's operations. It is also important to look into a nursing home's historical record. You can view any LA nursing home's record of complaints for inadequate care and find out whether the facility has been cited for negligence resulting in a patient's death by using the Cal Health Find Database from the California Department of Public Health. If preferred, you can also call the Health Facilities Inspection Division at (800) 228-1019.
Los Angeles Nursing Homes and the COVID-19 Pandemic
It is no secret that nursing home residents and employees have faced greater health risks throughout the pandemic than the average American. As the struggle to protect nursing home residents and staff from the virus carries on, the Los Angeles County Department of Public Health has developed a COVID-19 Dashboard for Skilled Nursing Facilities. The dashboard is a collection of self-reported data on COVID-19 tests performed, persons diagnosed, and COVID vaccination coverage in Los Angeles County skilled nursing facilities. This free online tool is another valuable resource you can use when evaluating potential care options for your elderly loved one in LA.
Inadequate Care at Large LA Nursing Home Providers
Some of the largest nursing home operators in LA are privately-held corporations. Such entities are notorious for prioritizing profits over patient care. This commonly takes the form of staffing facilities with too few RNs, LPNs, and CNAs, which leads to a range of preventable injuries such as bed sores from failing to reposition patients as frequently as needed, or falls and broken bones from improperly transferring patients out of their beds. For this reason, it is worthwhile to be aware of the ownership structure of your loved one's nursing home and whether the organization has a reputation for quality care.
Utilize Medicare's Care Compare website to rank nursing home options in Los Angeles County. Also, make sure to visit a potential nursing home before deciding if it is the right one for your loved one.
Los Angeles Nursing Home News – Workers Fight for Reforms
Nursing home employees' jobs are not easy. Many LA workers have no choice but to work long and exhausting shifts at drastically understaffed facilities for just above minimum wage. The Service Employees International Union (SEIU) Local 2015, which represents 400,000 California nursing home and home care workers, aims to address these issues as it advocates for a proposal to create a statewide Quality Standards Board, which would have the authority to set minimum standards for wages, benefits, and working conditions for the nursing home industry in the state.
Robert Oriona is a nursing home worker in the LA area, and his situation is an example of how poorly compensated nursing home staff can be. The 1.5% wage increase his employer recently offered him will be canceled out when LA increases its minimum wage to about $16 per hour in July 2022. Certainly, those who take care of our elderly loved ones deserve to be well-paid for the importance and demanding nature of their jobs. Oriana told The Guardian, "We're asking for help. Patient minimums, better wages, better benefits, and we need everyone out there to know what goes on in these facilities."
At the end of the day, the well-being of nursing home residents depends upon the professionals charged with taking care of them. But with so many of these workers in LA growing increasingly frustrated with their employers as they struggle to make ends meet on scant wages and few benefits, the city's nursing home residents may consequently face growing levels of inadequate care until significant changes within the industry take place.
Free Los Angeles Elder Abuse Lawyer Consultation
Elder abuse thrives in the shadows. If someone you care about was abused, neglected, or mistreated in a California nursing home or ALF, expose the negligent conduct.
Call, live chat, or submit your case facts below. Our Los Angeles nursing home abuse lawyer will let you know if your potential case rises to the level of a potential California nursing home abuse lawsuit.
Type your case facts in the submission form below or phone us toll free at (888) 375-9998 or locally at (213) 297-5277.