San Diego Nursing Home Abuse Lawyer, Representing Families Across Southern California
Need a qualified San Diego nursing home abuse attorney? At Senior Justice Law Firm, our firm's focus is on elder abuse litigation. This is all that we do.
We can help your family get justice after a preventable bed sore, fall, physical injury, or wrongful death occurs in a Southern California healthcare facility.
Call our San Diego nursing home abuse lawyer today to learn more about your legal rights under California law: 619-746-8807
Senior Justice Law Firm
San Diego Nursing Home Abuse Attorneys
1111 6th Avenue Suite 300
San Diego, California 92101
(619) 746-8807
San Diego Nursing Home Abuse Law Firm
Do you suspect that your loved one experienced abuse or neglect in a San Diego nursing home? If so, you are not alone.
Our experienced nursing home abuse lawyers represent victims and their families in San Diego and throughout Southern California. We are here to help your family achieve justice following a wrongful injury or death in a San Diego nursing home or assisted living facility. Best of all, our legal team is available to discuss your case in a free consultation right now. Call us to learn more about why our firm is different from other personal injury firms, and how we can help. We also have offices in Los Angeles and San Francisco.
---
Identifying Abuse and Neglect in San Diego Nursing Homes
Elderly nursing home residents cannot be expected to report abuse or neglect on their own for a multitude of reasons. While many may suffer from cognitive decline or confusion, which prevents them from accurately describing their experiences, others may be fearful or ashamed of admitting to what happened. As a loved one of a nursing home resident, you should be well-informed and vigilant as to the most common warning signs for abuse and understand that abuse may be physical, emotional, sexual, or financial.
Any of the following issues should be taken as an immediate indicator of nursing home neglect and should be promptly reported to authorities:
Lack of basic amenities
Unsanitary or cluttered living space
Sudden unexplained behavioral changes
Unexplained sexually transmitted diseases
Unpaid bills, new credit cards, and/or increased cash withdrawals
High white blood cell count, fevers, change in skin color, and signs of infection
Uncommunicative about care or individual(s) responsible for care
New injuries or suspected injuries
Unexplained bruising or traumatically induced injuries
Spotting Red Flags Indicative of Nursing Home Neglect
The most vulnerable victims of elder abuse usually cannot self-report. For this reason, you must remain vigilant in inspecting your loved one's body for signs of nursing home negligence.
Below are some 'Red Flag' injuries that strongly correlate with neglect or abuse: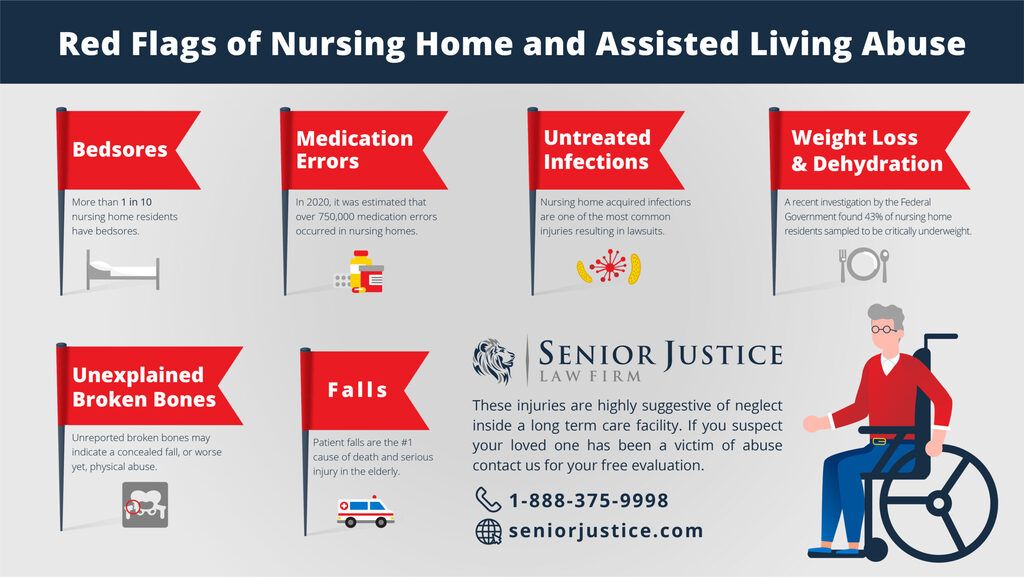 If a family member suffered any of the above injuries, they may have been caused by neglect or abuse. Call our San Diego nursing home abuse lawyer today to begin investigating what really occurred inside the facility.
If you have questions about identifying abuse, our team is available to assist you with getting the answers you need. We can aid in the investigation into what happened to your loved one inside a San Diego area facility and ensure you achieve justice following a wrongful injury or death.
Free Case Consultation: 619-746-8807
Nursing Home Abuse is On the Rise in San Diego
San Diego is a renowned destination worldwide thanks to its beautiful weather, white-sand beaches, and world-class attractions. With almost 1.5 million people in the city of San Diego and more than 3 million in San Diego County, the San Diego metro area is one of the ten largest in the US, and its growth trajectory is expected to continue as more people are drawn to its many charms. Of all the age groups residing in San Diego, none is growing faster than senior citizens.
Fueled by an aging generation of baby boomers and a steady influx of retirees from across the country, San Diego's senior growth rate is on track to outpace the growth rate of the total population throughout the next decade. By the year 2030, 1 in 4 San Diegans will be 60 years or older. Given these figures, it should come as no surprise that there is an abundance of nursing homes in the area, most of which are nestled in San Diego, Chula Vista, Oceanside, Escondido, El Cajon, and Carlsbad.
But as San Diego's senior population has risen, the region has seen an alarming wave of mistreatment in its nursing homes as well. In fact, the San Diego County District Attorney's Office reports that it handles over 10,000 reports of elder and dependent abuse each year. While there are many facilities providing high-quality care, far too many others are failing to meet their patients' needs. Those responsible for improper care must be held accountable.
Unlike other San Diego law firms, our firm's sole focus is combating elder abuse through the pursuit of justice for wrongfully injured nursing home residents. If you suspect suffering, abuse, or even wrongful death at a nursing home in the San Diego area, our experienced nursing home abuse lawyers are available to discuss your legal rights in a completely free and confidential consultation.
Many Elderly Citizens of "America's Finest City" are Not Doing Fine
While rainy days are exceedingly rare in San Diego, much of the region's senior population faces an outlook that is anything but sunny. According to United Ways of California, 23% of San Diego's seniors over age 65 face economic uncertainty, meaning they do not have enough income to afford their basic costs of living. Additionally, 22% of seniors over age 65 in San Diego are considered "elder orphans," a term denoting those who lack a nearby support system of family or friends. For these and all other seniors beginning to face age-related health problems, an in-home support specialist, nursing home, or other long-term care facilities can make all the difference in helping them to maintain the quality of life they deserve.
But what happens when these facilities fail to keep their patients' best interests at heart? Sadly, many senior citizens in San Diego have learned the answer to this question through their own traumatic personal experiences at local facilities.
Local News Highlights Widespread Nursing Home Abuse and Negligence in San Diego
The ongoing prevalence of nursing home abuse in San Diego has rightfully attracted intensified media scrutiny over recent years, forcing locals to grow accustomed to seeing stories detailing mistreatment. San Diego's KPBS news station began taking note of COVID-19's inordinate impact on nursing home residents in San Diego in 2020, and its reporting led to an ongoing string of investigations revealing abuse and neglect of all kinds at local long-term care facilities. These stories are important to share as they offer a glimpse into the unsafe nursing home conditions throughout San Diego. But certainly, there are countless more stories that remain untold.
San Diego Nursing Homes and Inadequate COVID-19 Precautions
It is no secret that poorly managed, understaffed nursing homes tend to overwork employees at the expense of employee and patient wellbeing. This is a common issue across the country, and San Diego is certainly not immune.
In July 2020, KPBS released a richly detailed investigation of the histories of the twelve San Diego nursing homes with the most COVID-19 cases at the time. Using state and federal inspection reports, databases, and lawsuit records, the investigation pointed to a common thread of understaffing at the nursing homes that led to a "perfect storm" of disastrous outcomes for residents as the coronavirus began sweeping through San Diego facilities. KPBS reported that each of the twelve nursing homes it reported on has faced lawsuits or citations over the past three years due to improper care, yet residents at these facilities clearly continue to face mounting risks.
In April 2020, one nursing home worker alleged that he and his elderly patients were endangered when he was assigned to take care of two COVID-19 patients at a facility in Pacific Beach. The worker stated that the two sick patients were not properly cared for when he was off duty as he allegedly found one patient alone on the floor when he returned to work in one instance, and a co-worker reported finding the other patient in a similar situation. The worker also alleged that his requests to be tested for the virus and be put into a paid quarantine were refused by management after he worked four 12-hour shifts caring for the COVID-19 patients. He says he was instructed to return to his normal duties working directly with other elderly residents following his exposure.
Residents are Shortchanged as San Diego Nursing Home Reaps Profits
In October 2020, KPBS reported on an El Cajon nursing home that it found to be providing its residents with much lower levels of nursing care than regulators expected, all while taking in millions of dollars in annual profits based on its financial records. The investigation showed a discrepancy between the levels of care that the facility was reimbursed for by the Centers for Medicare & Medicaid Services (CMS) and the actual amount of cumulative registered nursing care provided per day at the facility. It also highlighted high levels of complaints filed against the facility and its history of citations from inspectors for a range of issues including lax infection control, falsifying records, and failing to keep the facility free from hazards.
Frightening Pattern of Sexual Assault Allegations at San Diego Nursing Homes
In July 2021, KPBS reported that regulators in California fined two San Diego nursing homes for improperly handling nursing home sexual assault allegations made against a former employee of both facilities. The state concluded that the facilities had either not done enough to protect its residents from the alleged assault, or did not report the alleged assault quickly enough to the proper authorities. KPBS also found that state regulators allowed the accused individual to continue working in San Diego nursing homes, even as he was being investigated on multiple allegations. Less than a year later, he pled guilty to multiple sexual assaults of female residents in the facilities where he worked.
Most San Diego Nursing Home Neglect Goes Unreported
While it is encouraging to see more stories of nursing home abuse in San Diego being brought to light, those familiar with the industry understand that for every instance of nursing abuse that is reported, at least ten others never reach the proper authorities. To protect more vulnerable seniors from unnecessary suffering, the loved ones and guardians of nursing home residents must take it upon themselves to identify the signs of abuse and know how to properly report them.
Below our San Diego nursing home abuse lawyers explain how you can report elder abuse and neglect in San Diego.
How to Report Nursing Home Abuse in San Diego
If you believe your elderly loved one is in immediate danger or faces an immediate health risk, then you should call 9-1-1. For non-emergencies, you have multiple options for reporting abuse in San Diego.
For help in reporting a bed sore, fracture, brain bleed, assault, or wrongful death in a San Diego healthcare facility, contact Senior Justice Law Firm now: 619-746-8807
You can also use the form below to report San Diego nursing home abuse:
Reporting San Diego Nursing Home Abuse to the Police
If you believe elder abuse of any kind is occurring, you can always call your city's law enforcement office to kickstart an investigation.
Carlsbad Police Department Hotline: 760-931-2197
Chula Vista Police Department: 619 691-5151
Coronado Police Department: 619 522-7350
El Cajon Police Department: 619 579-3311
Escondido Police Department: 760 839-4722
Oceanside Police Department: 760 435 4900
San Diego Police Department: 619 531-2000 or 858 484-3154
San Diego County Sheriff's Department: 858 565-5200
Reporting San Diego Nursing Home Abuse to the California Department of Health
Since nursing homes and other medical facilities are licensed by the California Department of Public Health (DPH), you can report suspected abuse related to a specific facility to DPH. You can make reports to DPH both online or on the phone.
Report nursing home abuse to DPH online using this form.
Report nursing home abuse to DPH by phone:
San Diego North District Office: 1-800-824-0613
San Diego South District Office: 1-866-706-0759
To make a report against any nonmedical licensed care facility, you may contact the California Department of Social Services Community Care Licensing (CCL) hotline at 1-844-538-8766.
Reporting San Diego Nursing Home Abuse to Adult Protective Services in Southern California
The San Diego Adult Protective Services (APS) county office accepts reports of suspected abuse of elderly people living in private homes, apartments, or hotels, or in nursing homes when the alleged abuser is NOT a resident or staff member. APS investigates reported abuse cases and provides treatment and protective services to elderly victims.
24-hour San Diego County APS Hotline: 1-800-339-4661
Need Assistance Reporting Nursing Home Neglect in San Diego?
Senior Justice Law Firm Can Help!
As the loved one of a nursing home resident in San Diego, you should never be discouraged from reporting even the slightest suspicion of abuse to the proper authorities. Your report is kept confidential by California law, and as long as your report is made in good faith, you are protected from any civil or criminal liability if your suspicions are determined to be unfounded.
In other words, there is no excuse for remaining silent when you suspect a vulnerable nursing home resident may be in harm's way. A simple phone call could help save their life, and save the lives of future residents.
If the reporting process is too challenging, or you feel like your voice is not being heard, let our skilled and compassionate elder abuse legal team assist you in reporting the incident.
If you need assistance reporting elder abuse in San Diego, call our law firm today: 619-746-8807
Resources for Selecting the Best Nursing Home in San Diego
Helping a loved one transition from independent living into nursing home care can be a stressful ordeal. Fortunately, there are county, state, and federal resources that you can take advantage of to make the most well-informed decision possible.
Choose Well San Diego is a program of the County of San Diego Health and Human Services Agency, Aging & Independence Services (AIS). By visiting the Choose Well website, you can search through information and photos of more than 200 assisted living facilities in San Diego County to help you find the best option for your loved one. Cal Health Find is a resource from DPH that allows you to search for any nursing home in California and review its inspection history. Similarly, Medicare's Nursing Home Compare tool is a resource you can use to access nursing home survey reports and information on whether a facility has been cited for abuse.
The above resources should serve as a good starting point when deciding on a nursing home for your elderly loved one, but they are not substitutes for visiting facilities in-person or seeking references from trusted family members, friends, or healthcare providers. Abuse and neglect are possible at any nursing home, regardless of how positive its reviews online may be.
Free San Diego Nursing Home Abuse Attorneys Consultation
As San Diego's population continues to age and the demand for nursing home care intensifies, it is inevitable that more elderly individuals will be subjected to mistreatment in the facilities responsible for keeping them safe. While it is impossible to eliminate the threats posed by predatory caregivers or greedy management companies prioritizing profits over patients in San Diego, you can lower the risk of harm to your loved ones by taking advantage of the resources detailed above.
If you suspect neglect, speak with a San Diego nursing home neglect attorney today. The consultation is free and our law firm works on a contingency fee only. This means you pay us nothing out of pocket; we only get paid if we win your case. If we are successful, our lawyers receive 40% of the settlement or judgment as attorneys' fees.
If you are struggling with suspected abuse inside a San Diego facility, our team is here to help. Our experienced San Diego nursing home abuse attorney will provide you with the answers you need and will fight to ensure that justice is served in your loved one's case. Live chat with our office today or give us a call to set up a completely free consultation.
Free San Diego Nursing Home Abuse Lawyer Consultation: 619-746-8807