Nursing Home Abuse Cases Against Consulate Facilities:
Experience Matters!
Injury inside a Consulate nursing home? Wrongful death at a Raydiant Health Care, Independence Living Centers, and NSPIRE Healthcare nursing home? Let our nursing home abuse lawyers help you achieve justice against Consulate and its related skilled nursing companies.
Our attorneys narrowly focus on claims against nursing homes and assisted living facilities. If your case meets our criteria, we can investigate a potential nursing home negligence case against a Consulate facility. This includes cases against Raydiant Health Care nursing homes and NSPIRE Healthcare nursing homes.
If you believe your family member was wrongfully injured or died inside a Consulate nursing home, call our experienced attorneys toll-free for your free consultation at 888-375-9998. We will answer your questions for free, and there is never an obligation to make a claim against Consulate. Let our focus on this unique practice area help guide you along your journey to justice. Call us today for your free consultation.
Common Consulate Nursing Home Injuries Resulting in Abuse Claims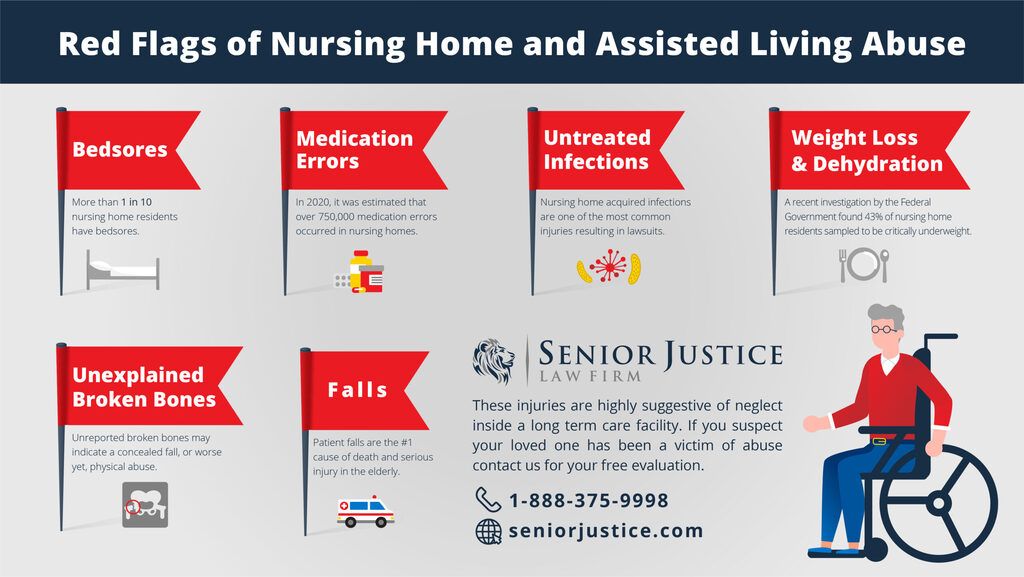 Patient falls resulting in fractures and broken bones.
Wrongful death claims.
Pressure sores and bed sores.
Dehydration and malnutrition.
Unexplained injuries.
Medication mistakes and drug errors.
Who Owns Consulate Nursing Homes?
All Consulate nursing homes and assisted living facilities are owned by Consulate Health Care. The Consulate Health Care company had humble beginnings in small town Pennsylvania, but has now grown into the 6th largest long-term care provider in the United States. At its height, Consulate operated more than 200 facilities across 20 states. The services offered by Consulate Health Care include nursing home, rehab, long term care, assisted living, Alzheimer's and dementia care.
Today, Consulate has sold off some of its skilled nursing portfolio. However, the healthcare giant operates, manages, or oversees a series of other healthcare companies. Some of these companies include the brand names Raydiant Health Care, Independence Living Centers, and NSPIRE Healthcare
Consulate Nursing Homes:
Alleged Negligence Lawsuits & Understaffing of Nurses
Understaffing of nurses and CNAs is a major contributor to nursing home neglect injuries. If there are not enough staff to watch after at-risk residents, preventable nursing home injuries occur. Many Consulate Health Care facilities were placed on Florida's "nursing home watch list" for operating below state standings. Specifically, many Consulate nursing homes were cited for failing to meet the state's minimum staffing standards. An investigation revealed more than half of Florida Consulate nursing homes were chronically understaffed. This lack of available nurses and CNA's resulted in Consulate paying almost $2 million in federal and state fines from 2013 to present. In addition to the fines paid, resident care was negatively impacted by the lack of nurses working inside the facility.
Our Lawyers Understand Consulate Nursing Home Litigation
If your family member was injured or killed due to a Consulate facility's negligence, it is crucial to understand the corporate ownership of Consulate and its affiliated companies (Raydiant Health Care, Independence Living Centers, and NSPIRE Healthcare). Our lawyers are well-versed in the corporate structure of the Consulate Health Care company. Check the list below to see if your potentially at-fault nursing home is a Consulate facility.
Bay Breeze Health and Rehabilitation Center
Baya Pointe Nursing and Rehabilitation Center
Consulate Health Care Of Bayonet Point
Beneva Lakes Healthcare and Rehabilitation Center
Bradenton Health Care
Brandon Health and Rehabilitation Center
Consulate Health Care Of Brandon
Health Center at Brentwood
Central Park Healthcare and Rehabilitation Center
Colonial Lakes Health Care
Coral Bay Healthcare and Rehabilitation Center
Coral Trace Health Care
Countryside Rehab and Healthcare Center
Destin Healthcare and Rehabilitation Center
Deltona Health Care
Dolphins View, The Health and Rehabilitation Center
Emerald Shores Health and Rehabilitation
Englewood Healthcare and Rehabilitation Center · Evans Health Care
Fletcher Health and Rehabilitation Center
Fort Pierce Health Care
Franco Nursing and Rehabilitation Center
Governors Creek Health and Rehabilitation Center
Grand Oaks Health and Rehabilitation Center
Habana Health Care Center
Harbor Beach Nursing and Rehabilitation Center
Harts Harbor Health Care Center
Heritage Healthcare and Rehabilitation Center
Heritage Healthcare Center at Tallahassee
Heritage Park Rehabilitation and Healthcare
Heron Pointe Health and Rehabilitation
Hillcrest Health Care and Rehabilitation Center
Island Health and Rehabilitation Center
Consulate Health Care Of Jacksonville
Keystone Rehabilitation and Health Center
Consulate Health Care Of Kissimmee
Lake Mary Health and Rehabilitation Center
Consulate Health Care At Lake Parker
Consulate Health Care Of Lakeland
Lakeside Oaks Care Center
Largo Health and Rehabilitation Center
Magnolia Health and Rehabilitation Center
Marshall Health and Rehabilitation Center
Melbourne, Consulate Health Care Of Melbourne
New Port Richey, Consulate Health Care Of New Port Richey
North Florida Rehabilitation and Specialty Care
North Fort Myers, Consulate Health Care Of North Ft. Myers
Oakbridge Healthcare Center
Oaktree Healthcare
Orange Park, Consulate Health Care Of Orange Park
Osprey Point Nursing Center
Palms Rehabilitation and Healthcare Center
Parks Healthcare and Rehabilitation Center
Pensacola, Consulate Health Care Of Pensacola
Plantation Bay Rehabilitation Center
Port Charlotte, Consulate Health Care Of Port Charlotte
Renaissance Health and Rehabilitation
Rio Pinar Health Care
Rosewood Health and Rehabilitation Center
Safety Harbor, Consulate Health Care Of Safety Harbor
San Jose Health and Rehabilitation Center
Sarasota, Consulate Health Care Of Sarasota
Sea Breeze Health Care
Seaview Nursing and Rehabilitation Center
Shoal Creek Rehabilitation Center
Spring Hill Health and Rehabilitation Center
St. Petersburg, Consulate Health Care Of St. Pete
Tallahassee, Consulate Health Care Of Tallahassee
University Hills Health and Rehabilitation
Vero Beach, Consulate Health Care Of Vero Beach
Vista Manor Wedge Healthcare Center
West Altamonte, Consulate Health Care At West Altamonte
West Palm Beach, Consulate Health Care Of West Palm Beach
Winter Haven, Consulate Health Care of Winter Haven
Wood Lake Health and Rehabilitation Center
NSpire Nursing Homes:
NSPIRE HEALTHCARE KENDALL
NSPIRE HEALTHCARE LAUDERHILL
NSPIRE HEALTHCARE MELBOURNE
NSPIRE HEALTHCARE MIAMI LAKES
NSPIRE HEALTHCARE PLANTATION
NSPIRE HEALTHCARE SARASOTA
NSPIRE HEALTHCARE TAMARAC
Raydiant Nursing Homes:
RAYDIANT HEALTH CARE OF BRANDON
RAYDIANT HEALTH CARE OF JACKSONVILLE
RAYDIANT HEALTH CARE OF NEW PORT RICHEY
RAYDIANT HEALTH CARE OF NORTH FORT MYERS
RAYDIANT HEALTH CARE OF ORANGE PARK
Independence Living Center nursing homes:
1. BARDMOOR OAKS HEALTHCARE AND REHAB CENTER
9035 Bryan Dairy Road, Largo, FL 33777
2. BAY BREEZE HEALTH AND REHAB CENTER
1026 Albee Farm Road, Venice, FL 34285
3. BRADENTON HEALTH CARE
6305 Cortez Road, West, Bradenton, FL 34210
4. BRENTWOOD RETIREMENT COMMUNITY
1900 West Alpha Court, Lecanto, FL 34461
5. CHIPOLA HEALTH & REHAB CENTER
4294 3rd Avenue, Marianna, FL 32446
6. COLONIAL LAKES HEALTH CARE
15204 West Colonial Drive, Winter Garden, FL 34787
7. COUNTRYSIDE REHAB AND HEALTHCARE CENTER
3825 Countryside Boulevard, Palm Harbor, FL 34684
8. DESTIN HEALTHCARE AND REHAB CENTER
195 Mattie M. Kelly Boulevard, Destin, FL 32541
9. EMERALD SHORES HEALTH AND REHAB
626 North Tyndall Parkway, Callaway, FL 32404
10. HEALTH AND REHAB CENTER AT DOLPHINS VIEW
1820 Shore Drive, South, South Pasadena, FL 33707
11. HEALTH CENTER AT BRENTWOOD
2333 North Brentwood Circle, Lecanto, FL 34461
12. HERITAGE HEALTHCARE CENTER AT TALLAHASSEE
3101 Ginger Drive, Tallahassee, FL 32308
13. LIVING CENTER OF SAFETY HARBOR
1410 Dr. M.L. King Jr. Street North, Safety Harbor, FL 34695
14. LIVING CENTER OF ST. PETERSBURG
9393 Park Boulevard, Seminole, FL 33777
15. LAKESIDE OAKS CARE CENTER
1061 Virginia Street, Dunedin, FL 34698
16. MAGNOLIA HEALTH AND REHAB CENTER
1507 South Tuttle Avenue, Sarasota, FL 34239
17. PERRY OAKS HEALTH CARE
207 Marshall Drive, Perry, FL 32347
18. RIO PINAR HEALTH CARE
7950 Lake Underhill Road, Orlando, FL 32822
19. ROSEWOOD HEALTH AND REHAB CENTER
3920 Rosewood Way, Orlando, FL 32808
20. SHOAL CREEK REHABILITATION CENTER
500 Hospital Drive, Crestview, FL 32539
21. SPRING HILL HEALTH AND REHAB CENTER
12170 Cortez Boulevard, Brooksville, FL 34613
22. TALLAHASSEE LIVING CENTER
1650 Phillips Road, Tallahassee, FL 32308
23. THE VILLAS AT LAKESIDE OAKS
1059 Virginia Street, Dunedin, FL 34698
24. UNIVERSITY HILLS HEALTH AND REHABILITATION
10040 Hillview Road, Pensacola, FL 32514
Consulate Down Sizes its Nursing Home Footprint
At its peak, Consulate had 208 buildings across 21 states. Consulate was one of the country's largest nursing home corporations. Since its rapid growth took off, Consulate Healthcare has faced its share of legal issues, including a bankruptcy filing and a financial settlement with the U.S. Department of Justice.
As of May 2022, Consulate has about 60 facilities spanning Pennsylvania, North Carolina, Virginia, Louisiana, and Mississippi.
Consulate has allegedly sold off its Florida facilities, however, some current board of director members overlap with Consulate board of director members. Florida Consulate facilities were spun off to different smaller chains, including but not limited to Raydiant Health Care, Independence Living Centers, and NSPIRE Healthcare. Despite being separate companies, for many of these "sold" facilities, Consulate remains the corporate office for these newly formed nursing home corporations. It is unclear what, if any, role Consulate plays in managing the operations of nursing homes branded under the names Raydiant Health Care, Independence Living Centers, and NSPIRE Healthcare.
More Questions on Bringing a Claim Against a Consulate Nursing Home?
Call us today for your free consultation at 888-375-9998.
Sources:
Updated May 2022.