Top-Rated West Palm Beach Nursing Home Abuse Lawyers
When nursing homes neglect their residents, our West Palm Beach nursing home abuse lawyers ensure the facility is held accountable.
At Senior Justice Law Firm, nursing home abuse cases are our law firm's focus, and we are based right here in Palm Beach County. This is all that we do, and we have extensive experience handling claims against just about every facility in Palm Beach County. Let our years of experience in this niche practice area guide your family on the journey to justice.
We are your West Palm nursing home neglect attorneys. Call us today for a free case consultation at (561) 717-0817 or toll-free at (888) 375-9998.
Prefer typing over talking? Submit your case facts to our law firm using the Free Case Submission form below, or live chat with our office now. We will get back to you promptly and let you know if you have a case we would pursue. All consultations are free.
Senior Justice Law Firm at a Glance
Specialized: Our law firm is singularly focused on cases involving nursing home neglect and elder abuse. Chances are, we have sued the facility that hurt your loved one. We also have the right medical experts, the proper discovery, and an intimate knowledge of the facility's corporate structure.
Experienced: We've represented hundreds of families whose loved one suffered bed sores, falls, broken bones, or wrongful death. We have more than 50 years combined courtroom experience litigating long term care facility liability cases like yours.
Track Record of Success: Our elder abuse attorneys have won millions of dollars for families impacted by West Palm Beach nursing home and assisted living negligence. We are known statewide for our narrow specialization in this practice area.
Local: Our attorneys live, work, and raise our families right here in Palm Beach County. We have extensive experience litigating in Palm Beach County Circuit Court, and we are familiar with local defense counsel and judges.
Compassionate: Our attorneys dedicate their professional lives to fighting for Florida's neglected seniors. We treat each family as if they were our own. Our glowing online reviews confirm this. Our West Palm Beach nursing home abuse attorneys approach each case with passion, and compassion. We know what you are going through.
No Payment Required: Our law firm works on contingency fee only. This means there is never an out of pocket payment to our firm for fees, ever. We only get paid if we recover money for your family. If we are successful, our fees are compensated by receiving a percentage of the settlement or judgment recovered. There are no fees or costs unless we win your case.
Start the conversation today by live chatting or calling our West Palm Beach nursing home neglect law firm. At Senior Justice Law Firm, we accept neglect cases against Palm Beach County nursing homes, assisted living facilities, memory care units, and home health aides. Let our experienced and compassionate legal team help your family through this difficult chapter.
Free Case Consultation: 561-717-0817
West Palm Beach Facilities are Consistently Under Investigation
West Palm Beach is the largest city in Palm Beach County, and is home to Palm Beach's government and healthcare district headquarters. It is no surprise that West Palm Beach has more nursing homes and assisted living facilities than any other city in the county.
Most of West Palm's skilled nursing facilities receive a passing grade from inspectors, however, many of the area's nursing homes have been cited for actual harm to residents.
Nursing home negligence can come in the form of intentional harm, such as physically hitting a resident. However, more commonly, we see the withholding of crucial care, services or supervision. This is called nursing home neglect. The result of nursing home neglect can be skin breakdown, like pressure sores, unsupervised walking resulting in falls, untreated infections, and wrongful death.
Regardless of whether the negligence comes in the form of abuse (intentional harm) or neglect (ignoring a resident), Florida law allows aggrieved families to hold the healthcare facility accountable via the civil justice system. Our attorneys routinely file claims pursuant to Chapter 400, Florida's nursing home negligence statute, and Chapter 429, Florida's assisted living facility negligence statute. We can help you evaluate your legal rights after an injury occurs in a West Palm Beach healthcare facility.
Is This West Palm Beach Nursing Home Negligence?
"… Yea, but your Mom was really sick when she lived in our nursing home."
After a preventable West Palm Beach nursing home injury, we hear things like this from the facility management. Of course the victim was sick or frail before the injury. This is precisely why they lived in the nursing home. Just because a victim of West Palm Beach nursing home abuse is ill before the injury occurs does not allow nurses to neglect the resident. In fact, the nursing home is paid thousands of dollars each month to provide personalized care for these frail, at-risk residents.
If you suspect neglect, be on the lookout for these common 'red flag injuries' which are highly suggestive of abuse or negligence.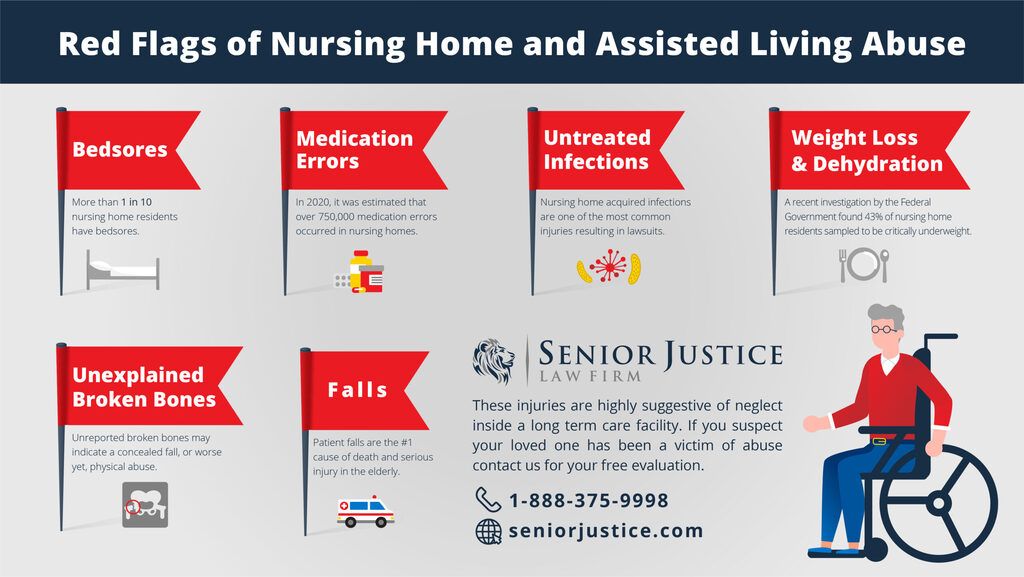 Every set of case facts is unique, and for this reason, we cannot tell you conclusively whether your incident of West Palm Beach nursing home neglect is a viable case. However, the following is a short list of indicators of neglect that commonly result in claims against the facility:
Unexplained bruises
Pressure ulcers and bedsores
Infected IV's, catheters and PICC lines
Incidents of patients wandering and eloping from the facility
If you believe someone you know was abused, neglected or injured in a West Palm Beach facility, get answers now. Call our West Palm Beach nursing home abuse lawyers for a free consultation at 561-717-0817. We have decades of experience litigating facility negligence cases and enjoy a 99% client satisfaction rating. Let our attorneys help you and your family get the justice you deserve.
Suspect West Palm Beach Nursing Home Abuse? Follow These 5 Steps
In the wake of a West Palm Beach nursing home wrongful death or serious injury, your life is turned upside down. If you are the victim's legal guardian or power of attorney, follow these tips:
If it is not too late, secure medical treatment for their injuries. Get them to a hospital ASAP. If the facility will not take them to the ER, call 911 yourself.
Take photographs of the injuries.
Go with the victim to the hospital so the physicians and triage staff have an objective, firsthand account of what really happened. Do not rely on the facility to provide an accurate history. Facility staff may lie about what actually occurred.
Call Florida's Elder Abuse hotline at 1-800-96-ABUSE to report nursing home abuse.
Speak with our compassionate and experienced West Palm Beach nursing home abuse lawyers at 561-717-0817.
FAQ's for our West Palm Beach Nursing Home Abuse Attorneys
Who will pay for my family member's injury or wrongful death?
If the victim has insurance like Medicare of Medicaid, most of the medical bills should be covered. However, in order to seek additional damages, like pain, suffering, inconvenience, loss of the ability to enjoy life and mental anguish, you will need to pursue a nursing home negligence claim.
I cannot afford a lawyer. How much do you charge for your representation?
This is a common situation. We don't require any out of pocket payment from you, ever. We work on contingency fee, meaning we only get paid if you get paid. If we do recover money for you, our attorney's fees are typically 33.3% – 40% of the recovery, depending on when the case resolves.
I live out of state, but my parent was injured in a West Palm Beach nursing home. Do I get a lawyer in West Palm? Or do I need one in my hometown?
Florida law will require the venue of the claim to be in Palm Beach County, since the at-fault facility is located here and the injury occurred in a West Palm Beach nursing home. For this reason, you will need a West Palm Beach nursing home negligence law firm to represent you. We can work with you remotely via phone, Skype, Zoom or FaceTime to prosecute your West Palm Beach nursing home abuse case. We routinely represent adult children of victims that live out of state, if their parent was hurt in a West Palm nursing home.
What are the general steps in a West Palm Beach nursing home neglect lawsuit?
Nursing home injury cases in West Palm are subject to Chapter 400 of the Florida Statutes. Generally, a case is signed up and our law firm obtains all the relevant medical records. These records are reviewed by an expert (generally a nurse or a doctor). If we find a good faith basis for the nursing home negligence, we send out a Notice of Intent to Initiate Litigation to the at-fault West Palm nursing home. This starts the mandatory presuit period, which generally lasts for 75 days. At the end of the presuit period, the parties are compelled to mediation, which is an informal settlement conference. Some cases settle at this early mediation while others do not. If the case does not settle, we file the lawsuit in Palm Beach County circuit court. From there, we conduct written discovery and take depositions of the nursing home nurses and business officers. The other side will conduct discovery as well. We then are compelled to mediate the case again. If the case does not settle at the second mediation, we try the matter before a jury.
Will my West Palm Beach nursing home injury lawsuit go to trial?
We never know which cases will go to trial, but our law firm prepares each case as if it will go to a jury. That being said, due to the expense and risk to both parties, more than 95% of Palm Beach County nursing home abuse claims settle before trial. The same is true of Palm Beach assisted living facility negligence cases. Almost all of these settle without the need for a jury trial.
What is a nursing home abuse claim worth in Palm Beach County?
This too is impossible to answer. Our lawyers have received million dollar verdicts and also have received $0 verdicts. We have settled WPB nursing home abuse cases for as low as $25,000 and as high as $2 million+. Every case is different and each set of facts are unique. If you have questions on your individual West Palm nursing home abuse case, call our lawyers today at 561-717-0817.
Why Should I Choose Senior Justice Law Firm as my West Palm Beach Nursing Home Abuse Lawyer?
There are certainly other Palm Beach County lawyers who can handle your nursing home abuse claim. However, the lawyers at Senior Justice Law Firm are primarily focused on representing victims of nursing home abuse and neglect. We don't litigate worker's compensation claims or product liability cases. We do not handle car accident cases or slip and falls at grocery stores. We focus on this narrow sub-specialty, here in Palm Beach County. Specialization matters, and not all lawyers have the same experience on a specific case. Contact us today to learn why we are different.
Experience Matters. Our Nursing Home Abuse Attorneys Have It.
West Palm Beach Nursing Homes
The following facilities are nursing homes in the West Palm Beach metro area:
| | | | | | | | |
| --- | --- | --- | --- | --- | --- | --- | --- |
| Name | | Street Address | City | | | | |
| CONSULATE HEALTH CARE OF WEST PALM BEACH – 95032 | | 1626 DAVIS RD | WEST PALM BEACH | | | | |
| | | 2939 S HAVERHILL RD | WEST PALM BEACH | | | | |
| | | 2170 PALM BEACH LAKES BLVD | WEST PALM BEACH | | | | |
| | | 2501 N AUSTRALIAN AVENUE | WEST PALM BEACH | | | | |
| | | 315 S FLAGLER DR | WEST PALM BEACH | | | | |
| | | 2300 VILLAGE BLVD | WEST PALM BEACH | | | | |
| | | 300 EXECUTIVE CENTER DRIVE | WEST PALM BEACH | | | | |
| REHABILITATION CENTER OF THE PALM BEACHES,THE – 95005 | | 301 NORTHPOINTE PARKWAY | WEST PALM BEACH | | | | |
| RENAISSANCE HEALTH AND REHABILITATION – 95034 | | 5065 WALLIS ROAD | WEST PALM BEACH | | | | |
| | | 2090 N CONGRESS AVE | WEST PALM BEACH | | | | |
How Do I Know Which West Palm Beach Nursing Homes are Bad Facilities?
We recommend starting your comparison of nursing homes online. Medicare built a comparison website called CareCompare which allows users to compare West Palm Beach nursing homes for deficiencies and instances of neglect. You can also check out ProPublica's free and independent research into nursing home misconduct. This is no replacement for actual face-to-face visits at the facility. You should visit each potential nursing home and choose the one where you feel your loved one will get the best care.
More Questions for our West Palm Beach Nursing Home Abuse Attorneys?
Our attorneys only get paid if we win your case, so there is no out of pocket cost or expense required to retain our law firm.
We provide free case consultations, and if we accept your case, we can gather your loved one's medical records and hire expert witnesses to determine what really happened in the West Palm Beach facility.
To learn more about our firm, how we can help and why we are different from generalized personal injury firms, call us now at 561-717-0817 or live chat with our office.
Let our firm help your family after a preventable tragedy occurs inside a Palm Beach County healthcare facility.
At Senior Justice Law Firm, we treat every case like it involved our family member. Let our firm guide you and your family on your journey to justice.
Call or submit your case facts below to learn more about how we can help.