Why Should I File a Pressure Ulcer Lawsuit?
Pressure ulcers in healthcare facilities occur when a patient's needs are neglected. Mainly, pressure ulcers develop when a bedbound patient is left in bed or a wheelchair for too long. This is patient neglect.
At Senior Justice Law Firm, our bed sore attorneys focus on claims involving pressure ulcers. In fact, pressure ulcer lawsuits are the most common injury claim we litigate.
Regardless of your family's motivation for bringing the claim, pressure ulcer lawsuits serve multiple purposes. Below are 5 reasons why it makes sense for your family to investigate a pressure ulcer lawsuit against a negligent nursing home, assisted living facility, or hospital.
Free Pressure Ulcer Lawsuit Consultation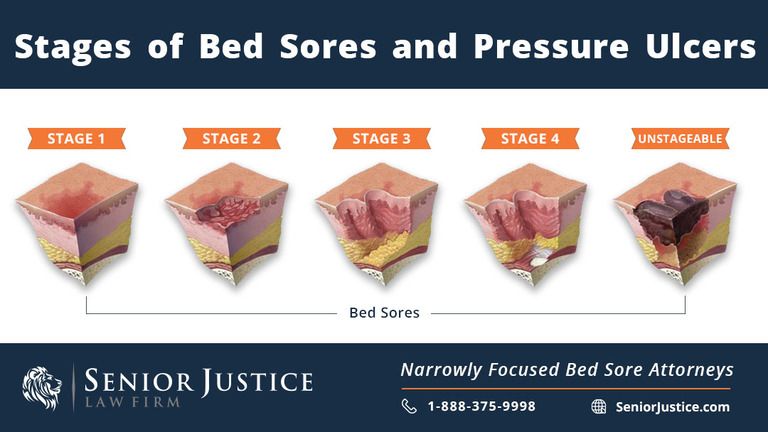 Our narrowly focused pressure ulcer attorneys can advise you of your legal rights. Call us at (888) 375-9998 or live chat with us now to learn more about your legal rights following this preventable injury.
1. Pressure Ulcers are a Never Event
We are have a general understanding that pressure injuries should not occur. But did you know that the federal government considers pressure wounds to be a 'never event'?
The federal government places Stage 3, Stage 4, and unstageable pressure ulcers as never events. Other never events include wrong surgical site surgeries and administering medication to the wrong patient.
In other words, deep pressure ulcers in a nursing home or hospital are never an acceptable outcome of a nursing home residency or hospitalization. The government views deep pressure injuries on the same level of wrong site surgery errors. In fact, most of the time, Medicare will not pay a medical provider for wound care associated with an in-house acquired pressure ulcer, since the injury is so preventable.
2. Pressure Ulcer Lawsuits Publicly Hold Negligent Facilities Accountable
If you try to report patient neglect to the appropriate government agency, you may be met with a frustratingly apathetic attitude. Our elder abuse agencies are sadly underfunded and under-manned. This means elder abuse and neglect is not always investigated properly, if at all.
Sometimes, the only justice that can be sought is in the civil courts. This is where a pressure ulcer lawsuit can make a difference. If a government agency investigation does not shine light on the abuse, a public lawsuit will.
Public lawsuits and large pressure ulcer settlements force corporate nursing homes and hospitals to change their negligent ways. A pressure ulcer lawsuit serves as an economic deterrent to bad care. Even if the money means nothing to you and your family, it means the world to the negligent corporate facility.
3. You Deserve Compensation
Pressure ulcer lawsuits are about much more than just money. However, let's be honest, with all the pain, suffering, inconvenience, and additional medical treatment, you and your family deserve monetary compensation.
Our nursing home attorneys have recovered millions of dollars in pressure ulcer lawsuits. We have won hundreds of pressure injury cases for families whose loved one suffered a bedsore in a nursing home, ALF, or hospital setting.
Contact our firm to learn more about how much your pressure ulcer lawsuit is worth.
4. You Deserve an Explanation as to Why This Happened
When a mistake occurs in a healthcare facility, management clams up. Despite your good intentions, your questions go unanswered. Oftentimes, a director or administrator will explain that this pressure ulcer developed because of your loved one's underlying health issues.
Remember, the majority of pressure wounds are preventable. You cannot always believe the explanation of the defendant-facility. Nursing homes in particular will conceal and obfuscate the truth.
When your pressure ulcer lawsuit gets filed, your attorney is able to subpoena nurses at the facility for deposition. The people involved in the substandard care must state, under oath, what really happened involving your loved one.
Many families that contact our law firm only want answers as to what happened. Unfortunately, sometimes, these answers can only be delivered through a pressure ulcer lawsuit.
5. Pressure Ulcer Lawsuits Create Change
Let's just assume your family is uninterested in receiving compensation for your parent's pressure injury. A lot of families that contact us could care less about the settlement they will receive from the case.
However, just about everyone cares about their loved one's health. And if your parent or spouse suffered the unfortunate fate of developing a pressure injury, you probably want to make sure it does not happen to another patient.
Most pressure ulcers occur because of uncaring or untrained staff. This problem arises out of corporate understaffing. This profits before people approach is the root cause of most pressure injuries we see.
By bringing a pressure ulcer lawsuit, you are costing the facility money. They have to pay a lawyer to defend the claim, and hopefully, they will pay you tens of thousands of dollars in a settlement or judgment. By taking money from the corporation that oversees the facility, you are drawing attention to the sub-standard care that led to the pressure ulcer. If this pressure ulcer lawsuit costs the facility $250,000, most companies will make a business decision to hire better, and more, staff. In essence, you are making it cheaper for the company to provide good care versus paying a large pressure ulcer settlement.
This is why by filing a pressure ulcer case, you are actually improving care for future patients.
More Questions on a Pressure Ulcer Lawsuit?
At Senior Justice Law Firm, we practice elder abuse and neglect law across the country. Our narrow focus is on the very injury you are researching.
Our attorneys have successfully won thousands of pressure ulcer lawsuits for families impacted by neglect and abuse. Our vast knowledge with almost every corporate healthcare defendant grants us extensive courtroom experience. It also allows us to promptly settle cases if the family's desire is a quick resolution. Whether it is a trial or a pre-suit settlement, Senior Justice Law Firm can help your family get justice.
Let our skilled and compassionate legal team assist you in answering your pressure ulcer lawsuit questions. Live chat with us or call us now for a completely free case consultation.
Concerned about how you can afford an attorney? We work on contingency fee only, so we never charge any out of pocket charges for attorneys fees or costs. We only get paid if you make a recovery on the case.
Share your story with us today and we can assist you on your journey to justice. We want to be your pressure ulcer attorneys.
Call us at (888) 375-9998 or submit your pressure ulcer case facts below to receive a free case consultation.
« Previous Post
Next Post »