Boca Raton Nursing Home Abuse Lawyers Representing Victims Statewide
Local Boca Raton Firm Specializing in Nursing Home Neglect Cases
Nursing home negligence is our law firm's primary practice area. This is all we do. Our Boca Raton nursing home abuse attorneys are here to help your family after a tragedy occurs inside a South Florida nursing home, assisted living facility, or hospital. Elder abuse and neglect is inexcusable. Let Boca-based Senior Justice Law Firm represent your family and make your voice heard.
Free Consultation with Experienced Boca Raton Nursing Home Abuse Attorneys
Call our Boca nursing home negligence attorneys now at 561-717-0817.
We are Boca Raton nursing home abuse lawyers litigating elder abuse cases across Florida. Every day, we advocate for wrongfully injured nursing home residents out of our Boca Raton office.
Unlike other Boca Raton injury lawyers, nursing home abuse cases are the focus of Senior Justice Law Firm.
We are uniquely qualified to represent your family after an injury or wrongful death inside a Boca nursing home or assisted living facility.
Let our narrowly focused Boca nursing home negligence lawyers help you achieve justice for your wrongfully injured or killed loved one.
Speak with our Boca Raton nursing home abuse law firm now by calling 561-717-0817 or using the live chat feature through our website. The consultation is always free and there is no obligation to pursue a case.
How Will I Recognize Boca Raton Nursing Home Abuse?
Tragically, nursing home negligence is underreported. Official NCOA statistics show that only 1 in 5 instances of Florida nursing home neglect actually gets reported.
Usually, families will not actually observe nursing home abuse. More commonly, families observe injuries which arise out of elder abuse or neglect. These injuries spur an investigation, and after reviewing the records, our attorneys find nursing home negligence.
Below are glaring 'Red Flag' injuries which strongly suggest nursing home neglect: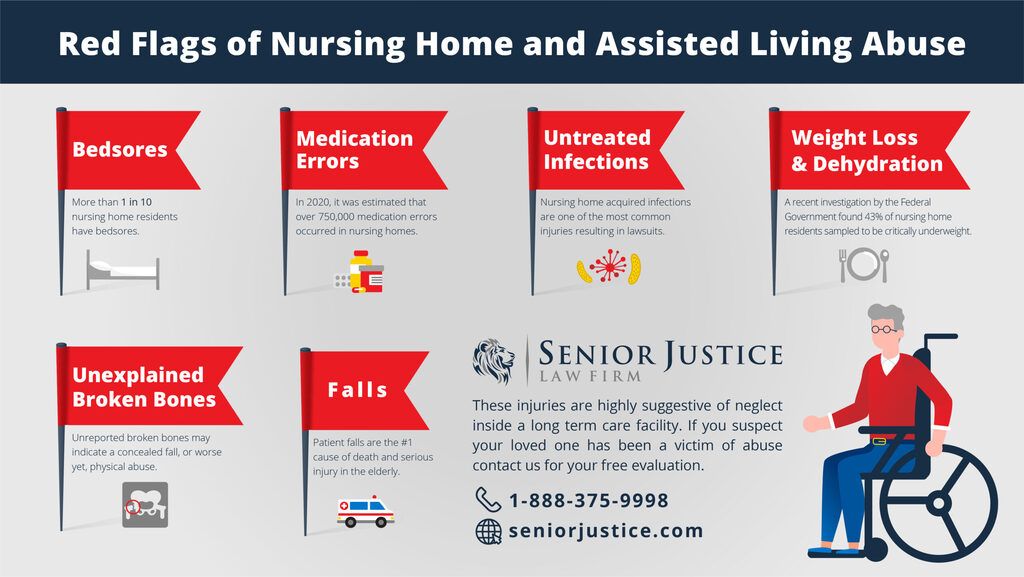 If your loved one suffered any of the above injuries, it is likely that you have a viable elder neglect claim. Speak with our Boca nursing home abuse attorneys today to learn more about your rights under Florida law: (561) 717-0817.
About our Boca Raton Nursing Home Abuse Attorneys
Suffering an injury or losing a loved one due to nursing home neglect is infuriating. We share in your rage. Nursing home residents are the most frail members of our population and neglecting their needs is inexcusable.
Unfortunately, many skilled nursing facilities and assisted living facilities in Boca ignore the needs of its patients. This is considered nursing home negligence.
Why Senior Justice Law Firm?
We are Boca's Nursing Home Abuse Law Firm.
Senior Justice Law Firm focuses its caseload on claims involving elder abuse and nursing home neglect. You won't see our lawyers doing 20 different kinds of injury cases. The majority of our cases involve nursing home abuse and we are one of the few firms in Florida to hold that distinction.
Our law firm also prides itself on providing the personalized attention your case deserves. Unlike many Florida injury firms, we are not a 'mill' churning car crash cases at a high volume. Our Boca Raton nursing home lawyers picked the nursing home sub-specialty because they are passionate about stopping elder abuse.
We want to help your family not only recover compensation for the injury, but also make a difference. Contact us now and tell us your story. We have handled thousands of Boca nursing home injury claims in the past, and we are happy to let our experience guide you in the decisions you and your family make. Let our Boca Raton nursing home abuse attorneys accomplish justice for you or your loved one.
A History of Excellence in Boca Raton Nursing Home Abuse Lawsuits
For more than 15 years, our trial attorneys have fought for victims of nursing home abuse and neglect. We know the area, we know the facilities, and we are aware of the facility corporate ownership structure. Allow our Boca Raton nursing home negligence attorneys to pursue the damages allowed under Chapter 400 of the Florida Statutes in your Florida nursing home abuse claim.
Experience Matters. Our Nursing Home Abuse Attorneys Have It.
Frequently Asked Questions to our Boca Raton Nursing Home Abuse Attorneys
What is 'Abuse'?
A knowing or intentional act by a caregiver that causes harm. For example, if a med-tech falsely charts that a prescription was given to a resident when it was actually withheld, this is nursing home abuse.
What is 'Neglect'?
Boca Raton nursing home neglect is when a caregiver fails to meet the needs of the facility resident. For example, if a resident's fall risk is ignored and they suffer a fall, this may be nursing home neglect.
Who is responsible for nursing home neglect in Boca Raton?
If the facility was negligent, the nursing home licensee can be held accountable for nursing home abuse. Also, depending on their involvement, corporate management and individual owners can be held responsible for nursing home injuries.
How can I transfer my loved one into a new Boca Raton nursing home?
Chapter 400 of the Florida Statutes ensures that every resident has a right to be transferred if they want to switch facilities. The Boca Raton area has almost 100 nursing homes. Determine which facilities can meet your loved one's needs and then interview each location like you are looking for a job.
What good will money damages do for my family?
It's true that no amount of money will undue the harm caused to your family member due to the nursing home negligence. Many of our clients are uninterested in recovering monetary compensation for the harm done. Instead, they just want to make a difference in future care, and ensure that this does not happen to somebody else's parent. Boca Raton's nursing homes are almost entirely for-profit ventures. The only way to get the attention of management is to impact the facility's profitability. If your family is able to secure a settlement for the harm caused to your loved one, the facility will undoubtedly take steps to prevent the incident from happening again. This is the best way to effectuate change in a for-profit nursing home industry that is only focused on money.
What is bed sore?
A bed sore, also called a pressure injury or decubitus ulcer, is preventable skin breakdown. Bedsores typically appear on the patient's backside and heels and can be a sign of nursing home neglect. Bed sores are never an acceptable outcome of a hospital or nursing home stay. If your loved one developed a pressure injury, contact our Boca Raton bed sore attorneys today.
Are falls preventable?
Some falls can be prevented, others cannot. If a resident is at risk for falls, Florida law requires that the facility implement fall preventative measures. If a facility fails to use fall preventative measures appropriately, this can be a form of nursing home negligence. In our experience, many of the falls we see in South Florida nursing homes and ALFs could have, and should have been prevented. In order to determine if your specific fall constitutes nursing home negligence, speak with our Boca nursing home lawyers today.
What is the best nursing home in Boca Raton?
Nursing homes often change ownership and management, so facilities can change drastically in a short period of time. If you are searching for the best nursing home in Boca, we recommend you utilize Medicare's Nursing Home Compare site, in addition to a physical site visit and in-person interviews with staff.
When is the right time to consult with a Boca Raton nursing home abuse attorney?
Generally speaking, the sooner the better. In the aftermath of a nursing home tragedy, records get altered and witnesses forget what they saw. Post-incident records are being created, along with incident investigations. You need a skilled and experienced advocate to protect your interests.
Why should I choose Senior Justice as my Boca nursing home lawyer? Why not go with a large car accident firm?
Senior Justice is more than our firm name. It is our mission statement. Our lawyers focus on these kinds of cases against nursing homes and assisted living facilities. We receive nursing home abuse case referrals from many of the large advertising car accident firms. Additionally, because this is our primary practice area and we are locally located in Boca, we likely have extensive experience suing the facility you are considering bringing a claim against. Our years of experience and relationships with defense counsel will inevitably help advance your case. Ultimately, you should meet and interview lawyers and choose the one with whom you feel most comfortable.
How much does it cost to retain your Boca nursing home neglect law firm?
We charge no upfront fees or costs, and you only pay us if we make a recovery for you. You will never be asked to pay our firm for attorneys fees out of pocket. Our fees run from 33.3% to 40% of your settlement or recovery, depending on when the case resolves. There is no charge for our lawyers to investigate your potential claim.
What is the best way to contact you?
You can call us or email us the facts of your potential Boca Raton nursing home abuse case. Once we have enough facts, our lawyers will review your case and give you direct feedback on the strengths and weaknesses of your claim. Our attorneys pride themselves on being compassionate and honest in our assessment of your case. You can start the conversation by calling us now at 561-717-0817.
List of Boca Raton Nursing Homes
The following are Boca Raton nursing homes:
LEGACY AT BOCA RATON REHABILITATION AND NURSING
6363 VERDE TRAIL BOCA RATON, FL 33433
PROMEDICA BOCA RATON SOUTH
7225 BOCA DEL MAR DRIVE BOCA RATON, FL 33433
WILLOWBROOKE COURT AT ST. ANDREWS ESTATES
6152 N VERDE TRAIL BOCA RATON, FL 33433
WILLOWBROOKE COURT AT EDGEWATER POINTE ESTATES
23305 BLUE WATER CIRCLE BOCA RATON, FL 33433
ENCORE AT BOCA RATON REHABILITATION
7300 DEL PRADO CIRCLE SOUTH BOCA RATON, FL 33433
MENORAH HOUSE
9945 CENTRAL PARK BLVD N BOCA RATON, FL 33428
HEALTH CENTER AT SINAI RESIDENCES


21044 95TH AVENUE SOUTH

BOCA RATON, FL 33428
Most of Boca's skilled nursing facilities are in central Boca, near Glades Road. Palmetto Park Road and the southern half of Boca has a few established facilities, and northern Boca, near Yamato Road, has some recently constructed nursing homes.
We also routinely represent victims of West Boca nursing facilities, in between US 441 and the turnpike. We also routinely handle elder abuse cases in neighboring Broward County, and north into Delray Beach and West Palm Beach.
Where is Your Boca Raton Law Office?
Greater Boca Raton has a population of over 200,000 citizens, which makes it the largest city in Southern Palm Beach County. Our office is located just south of the Congress exit on I-95 in the Boca Commerce Center. Centrally located, our Boca office location is easily accessible from I-95, the Turnpike, Glades Road, Palmetto Park Road and Yamato Road.
Our Boca office's physical address is 7700 Congress Avenue #3216 Boca Raton, FL 33487. Senior Justice Law Firm is located in the 3000 building on the second floor in the corner office suite overlooking the Yamato Scrub nature preserve.
When visiting our office, there is ample parking and handicap spots near the elevator. If you are unable to come to our office, we can meet you at your home or a convenient location. Out of area family members can consult with our Boca Raton nursing home lawyers in a free Skype or telephone consultation.
Boca Raton Nursing Home Negligence Lawsuit
If you are ready to begin your investigation into what really happened to your loved one in the Boca nursing home, our lawyers are happy to speak with you. Every consultation is 100% free and there is no obligation. Call our Boca Raton nursing home abuse lawyers today at 561-717-0817 or fill out the free case evaluator below.