FutureCare's Prior Legal Issues
FutureCare is a nursing home corporation based in Maryland, overseeing 15 locations throughout the state. Of the 15 locations, 12 are located in Baltimore. Despite their heavy presence in the Baltimore area, however, the company's track record has been checkered. From the many health inspection citations at their multiple locations to the lawsuits alleging poor care and negligence, FutureCare has had a history of legal issues.
Our Baltimore nursing home abuse attorney has considerable experience handling claims against FutureCare for nursing home abuse and neglect.
Free Case Consultation: 410-934-3988
FutureCare's History of Lackluster Health Inspections
In Maryland, according to Medicare.gov, the average number of health citations against nursing homes is 14.9, which is nearly double the U.S. average of 8.1.
In particular, FutureCare's Canton Harbor location has been cited an astounding 33 times, over four times more than the national average and more than double the average for citations in Maryland itself.
Canton Harbor's most recent health inspection from 2019 explains the drivers behind the citations. Among the many deficiencies, the facility was cited for "failing to ensure that residents were treated with respect and dignity" (such as by not feeding a resident until after the food had been cold and sitting for some time) as well failing to protect the confidentiality of the residents and maintain a clean and comfortable facility. Not having clean and well run facility can lead to serious injuries like bed sores, falls, and even wrongful death.
Future Care Cold Spring and Future Care Irvington have fared better in their health inspections than the Caton Harbor location; however, they too have received more citations than the average nursing home in Maryland, coming in at 16 and 15, respectively. Among the citations for both facilities, mistreatment of residents was noted repeatedly, with documentation noting the facilities' failure to "honor the resident's right to a dignified existence" and "honor the resident's right to a safe, clean, comfortable, and homelike environment."
Lawsuits Against FutureCare Nursing Homes
FutureCare locations have faced many lawsuits since their inception. For example, the Canton Harbor nursing home, Future Care Canton Harbor, has five currently open cases and has been sued 24 times in the past 20 years, with a settlement or ruling in favor of the plaintiff in 16 of those 24 cases.
Future Care Irvington, another one of the company's locations in Baltimore, has faced similar legal issues, with more than 20 lawsuits since 2003; seven cases are either active or open at the time of this post. Similarly, Future Care Cold Spring has seen 19 lawsuits since 2002, with half of those cases currently either open or active.
Even the locations that have fared better in terms of citations, like the Future Care Charles Street location Future Care Homewood, have still struggled with legal issues. This nursing home facility currently has four active or open lawsuits against them.
Common Nursing Home Negligence Allegations in a FutureCare Lawsuit
While every case is different, as nursing home negligence attorneys, we see common red flag injuries which suggest neglect.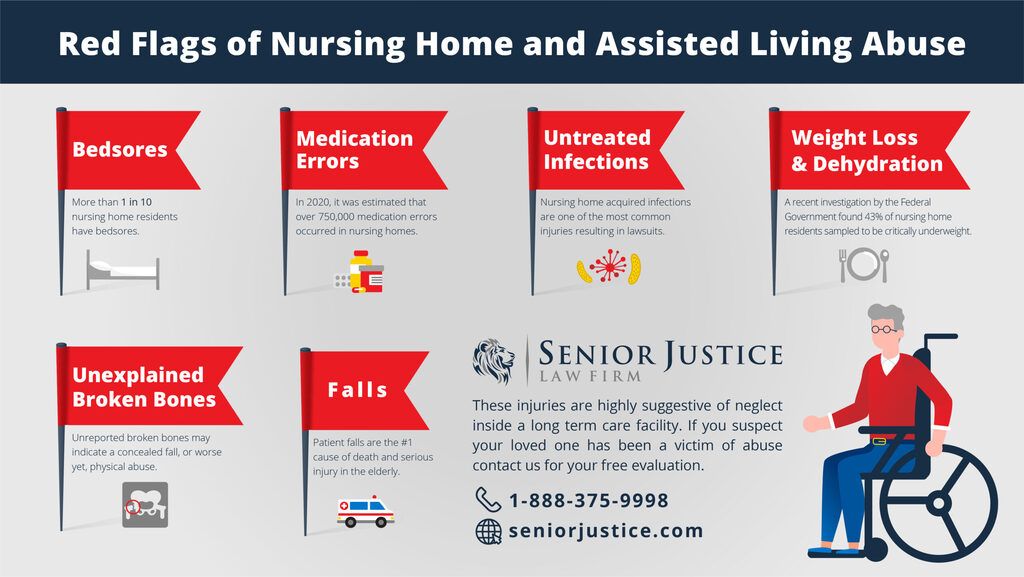 If your loved one developed bedsores, broken bones, significant weight loss or untreated infection while at a FutureCare facility, you might have a potential case.
Can you Sue FutureCare for Nursing Home Abuse?
If you believe that the poor care Future Care has given you or a loved one has been neglectful or abusive, you should contact our Maryland nursing home abuse attorney as soon as possible. Senior Justice Law Firm has worked with cases of nursing home neglect and abuse for years and would be happy to discuss your situation in a free consultation. Reach out to us through our chat feature or call us at 410-934-3988. If you prefer, you can also submit your information below.
Attorney Disclaimer

*Each case is different. Prior results do not guarantee a similar outcome or indicate an expected outcome on your particular case. The above prior citations and lawsuit information is for informational purposes only and does not constitute legal advice. The information is not provided in the course of an attorney-client relationship and is not intended to substitute for legal advice from an attorney. This individual case information above is publicly filed information gathered from state surveys or publicly filed complaints. This information and these cases are not the work of this law firm. The contents of this website should not be construed as legal advice on any specific fact or circumstance. Your receipt of such information does not create an attorney-client relationship with this law firm or any of its lawyers. You should not act or rely on any of the information contained herein without seeking professional legal advice. Speak with an attorney immediately if you believe you have a viable case against a nursing home, assisted living facility or medical facility.
« Previous Post
Next Post »