Case Against a Sunrise Senior Living Facility? Our Attorneys Can Help
Our nursing home abuse and neglect attorneys have years of experience suing negligent nursing homes and assisted living facilities owned and operated by Sunrise Senior Living.
If you are searching for an attorney who can take on a Sunrise Senior Living nursing home or A.L.F. for abuse, neglect or wrongful death, contact Senior Justice Law Firm.
1-888-375-9998
Free Sunrise Senior Living Lawsuit Consultation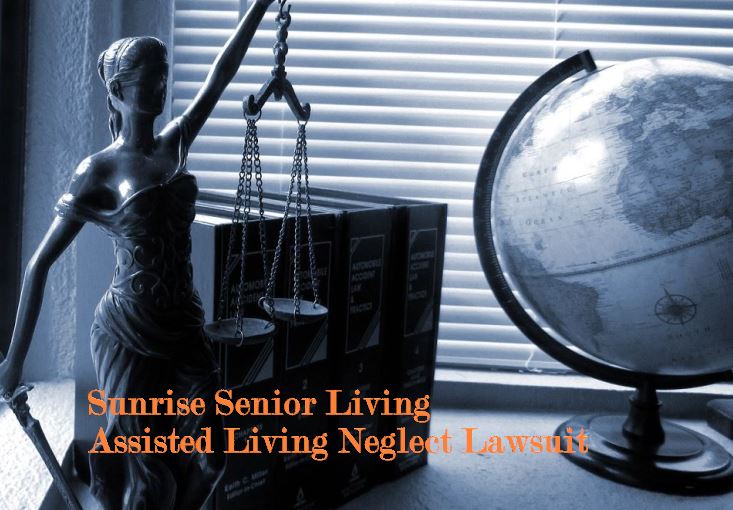 After a loved one is injured inside a nursing home or assisted living, family members experience a variety of emotions; anger, grief, and confusion as to how this happened are just a few.
Our attorneys focus exclusively on civil lawsuits against negligent nursing homes and assisted living facilities. We are uniquely equipped to help you and your family achieve justice after bedsore, broken hip, brain injury or wrongful death inside a Sunrise Senior Living facility.
Let our narrow focus and unique experience guide you on your journey to justice. There is no obligation to bring a case against Sunrise Senior Living and the consultation is free of charge.
Call us today to begin the conversation: 1-888-375-9998.
Sunrise Senior Living Faces Class Action Lawsuit Alleging a Scheme to Defraud Seniors
In June of 2017, a proposed lawsuit against Sunrise Senior Living was filed in California. In this class action case against Sunrise Senior Living, the plaintiffs allege dubious dealings by Sunrise in operating their long term care facilities. Specifically, the complaint alleges staffing based on a budget and not based on patient acuity levels.
"[Sunrise] has engaged in a scheme to defraud seniors, persons with disabilities, and their family members at its assisted living facilities in California by falsely representing to all residents in its admission contracts that each resident will be provided the care services (through facility staff) that the resident needs as determined by a resident assessment conducted by facility personnel. This is false and misleading because Sunrise does not use the results generated by its resident assessment system to determine or provide staffing at its facilities. Sunrise conceals and fails to disclose that, as a matter of corporate policy, Sunrise sets facility staffing per shift based on pre-determined labor budgets that remain static throughout the year despite any increases in aggregated resident needs as determined by resident assessments."
Our nursing home abuse attorneys have previously detailed how understaffing in a nursing home or A.L.F. negatively impacts resident care and leads to preventable injury.
Sunrise has also faced other accusations relating to alleged employee wage violations.
Common Injuries Resulting in Lawsuits vs. Sunrise Senior Living Assisted Living and Skilled Nursing Facilities
Routinely, we sue assisted living and nursing homes for the following injuries:
Falls resulting in fractures, broken bones and brain bleed injuries.
Bed sores, pressure ulcers and deep wounds.
Patient wandering out of the facility, also called elopement.
Sexual and physical abuse, perpetrated by staff or other unsupervised residents.
Medication errors and prescription drug administration mistakes.
Wrongful death.
Although these injuries are not conclusive evidence of negligence, if your loved one suffered any of the above ailments, your potential case deserves further investigation.
Our lawyers can obtain your family member's medical records and have them reviewed by an expert. From there, we will determine what happened and whether the injury was preventable.
How Do I Pay for my Attorney in a Sunrise Senior Living Lawsuit?
We work exclusively on a contingency fee basis. This means you pay us nothing unless we win your case. If we do prevail and recover money for you, we take a percentage of the recovery as attorneys fees. This is usually 33 1/3 to 40%, depending on the venue and length of time to achieve the settlement. Costs and medical liens, if any exist, also come out of your recovery. These are also contingent on recovery, meaning they are not to be paid unless you win your case.
Free Case Consultation
The attorneys at Senior Justice Law Firm dedicate their professional lives to combating nursing home and assisted living abuse and neglect. Let our focus on long term care liability lawsuits maximize your case outcome.
Call us now to see how we can help you pursue a Sunrise assisted living liability lawsuit. 1-888-375-9998.

Sunrise Senior Living Facilities – Assisted Living, Nursing Home and Memory Care Facilities
How do you know if the facility where your family member was injured is controlled by Sunrise Senior Living? Many Sunrise facilities will bear the name of the company, and then have the city name. For example, Sunrise's Jacksonville, Florida memory care facility is called, Sunrise of Jacksonville.
However, many Sunrise Senior Living assisted living and nursing home facilities do not share the company's name. For example, The Quadrangle nursing home in Pennsylvania is owned by Sunrise Senior Living, but does not have 'Sunrise' in its name.
Below are a list of some, but certainly not all, of Sunrise's facilities, separated by state.
Sunrise Senior Living Facilities in Pennsylvania
Sunrise of Abington
1801 Susquehanna Road



Abington
,
PA
19001
Sunrise of Blue Bell
795 Penllyn Blue Bell Pike



Blue Bell
,
PA
19422
Sunrise of Dresher
1650 Susquehanna Road



Dresher
,
PA
19025
Sunrise of Exton
200 Sunrise Blvd



Exton
,
PA
19341
Sunrise of Granite Run
247 North Middletown Road



Media
,
PA
19063
Sunrise of Haverford
217 W. Montgomery Avenue



Haverford
,
PA
19041
Sunrise of Lafayette Hill
429 Ridge Pike



Lafayette Hill
,
PA
19444
Sunrise of Lower Makefield
631 Stony Hill Road



Morrisville
,
PA
19067
Sunrise of McCandless
900 Lincoln Club Drive



Pittsburgh
,
PA
15237
Sunrise of Newtown Square
333 South Newtown Street Rd.



Newtown Square
,
PA
19073
Sunrise of Paoli
324 Lancaster Avenue



Malvern (Willistown TWP)
,
PA
19355
The Quadrangle
3300 Darby Road



Haverford
,
PA
19041
Sunrise of Upper St. Clair
500 Village Drive



Upper St. Clair
,
PA
15241
Sunrise of Westtown
1045 Wilmington Pike



West Chester
,
PA
19382
Sunrise Senior Living Facilities in Florida
Our Florida assisted living negligence attorneys can help you after a fall, broken bone, brain bleed or wrongful death inside a Florida Sunrise Senior Living A.L.F. Call us at 561-717-0817 to see how we can help.
Brighton Gardens of Tampa
16702 North Dale Mabry Hwy



Tampa
,
FL
33618
Sunrise of Boynton Beach
10605 S. Jog Rd.



Boynton Beach
,
FL
33437
Sunrise of Jacksonville
4870 Belfort Road



Jacksonville
,
FL
32256
Stratford Court of Boca Pointe
6343 Via De Sonrisa Del Sur



Boca Raton
,
FL
33433
Sunrise Senior Living Facilities in New York
Our lawyers represent injured Sunrise Senior Living residents throughout the New York City metro area and on Long Island. Contact our NYC nursing home attorneys at 646-969-5855.
Sunrise of Crestwood
65 Crisfield St



Yonkers
,
NY
10710
Sunrise of Dix Hills
337 Deer Park Road



Dix Hills
,
NY
11746
Sunrise at East 56th
139 East 56th Street



New York
,
NY
10022
Sunrise of East Meadow
1555 Glenn Curtiss Blvd.



East Meadow
,
NY
11554
Sunrise of East Setauket
1 Sunrise Drive



East Setauket
,
NY
11733
Sunrise at Fleetwood
500 North Columbus Avenue



Mt. Vernon
,
NY
10552
Sunrise of Glen Cove
39 Forest Avenue



Glen Cove
,
NY
11542
Sunrise of Holbrook
320 Patchogue Holbrook Road



Holbrook
,
NY
11741
Sunrise of Huntington
300 West Hills Rd



Huntington Station
,
NY
11746
Sunrise at Mill Basin
5905 Strickland Avenue



Brooklyn
,
NY
11234
Sunrise of New City
233 North Main Street



New City
,
NY
10956
Sunrise of North Lynbrook
53 Franklin Ave



Lynbrook
,
NY
11563
Sunrise of Plainview
1231 Old Country Road



Plainview
,
NY
11803
Sunrise at Sheepshead Bay
2211 Emmons Avenue



Brooklyn
,
NY
11235
Sunrise of Smithtown
30 Route 111



Smithtown
,
NY
11787
Sunrise of Staten Island
801 Narrows Road North



Staten Island
,
NY
10304
Sunrise of West Babylon
580 W Montauk Hwy

West Babylon
,
NY
11704
Sunrise Senior Living Facilities in New Jersey
If your parent or spouse was sadly neglected inside a Sunrise assisted living facility in New Jersey, our attorneys can help. Dial
1-888-375-9998
to receive a free case evaluation from our New Jersey nursing home abuse lawyer.
Brighton Gardens of Edison
1801 Oak Tree Road



Edison
,
NJ
08820
Brighton Gardens of Florham Park
21 Ridgedale Avenue



Florham Park
,
NJ
07932
Brighton Gardens of Middletown
620 State Hwy, 35 South



Middletown
,
NJ
07748
Brighton Gardens of Mountainside
1350 Route 22 West



Mountainside
,
NJ
07092
Brighton Gardens of Saddle River
5 Boroline Road



Saddle River
,
NJ
07458
Brighton Gardens of West Orange
220 Pleasant Valley Way



West Orange
,
NJ
07052
Sunrise at West Essex
47 Greenbrook Road



Fairfield
,
NJ
07004
Sunrise of Basking Ridge
404 King George Road



Basking Ridge
,
NJ
07920
Sunrise of Bridgewater
390 US Route 22



Bridgewater
,
NJ
08807
Sunrise of Cresskill
3 Tenakill Park Drive East



Cresskill
,
NJ
07626
Sunrise of East Brunswick
190 Summerhill Rd



East Brunswick
,
NJ
08816
Sunrise of Edgewater
351 River Road



Edgewater
,
NJ
07020
Sunrise of Jackson
390 North County Line Road



Jackson
,
NJ
08527
Sunrise of Lincroft
734 Newman Springs Road



Lincroft
,
NJ
07738
Sunrise of Madison
215 Madison Avenue



Madison
,
NJ
07940
Sunrise of Marlboro
3A South Main St



Marlboro
,
NJ
07746
Sunrise of Morris Plains
209 Littleton Rd



Morris Plains
,
NJ
07950
Sunrise of Old Tappan
195 Old Tappan Road



Old Tappan
,
NJ
07675
Sunrise of Paramus
567 Paramus Road



Paramus
,
NJ
07652
Sunrise of Randolph
648 Route 10 W



Randolph
,
NJ
07869
Sunrise of Shrewsbury
766 Broad St.



Shrewsbury
,
NJ
07702
Sunrise of Summit
26 River Rd.



Summit
,
NJ
07901
Sunrise of Wall
2600 Allaire Road



Wall Township
,
NJ
07719
Sunrise of Wayne
184 Berdan Avenue



Wayne
,
NJ
07470
Sunrise of Westfield
240 Springfield Avenue



Westfield
,
NJ
07090
Sunrise of Woodcliff Lake
430 Chestnut Ridge Rd



Woodcliff Lake
,
NJ
07677
California Sunrise Senior Living Lawsuits
Sunrise Villa Bradford
1180 N Bradford Ave



Placentia
,
CA
92870
Sunrise Villa Santa Rosa
4225 Wayvern Dr



Santa Rosa
,
CA
95409
The Carlisle
1450 Post Street



San Francisco
,
CA
94109
Sunrise Villa Culver City
4061 Grand View Blvd



Los Angeles
,
CA
90066
Sunrise Villa San Jose
4855 San Felipe Rd



San Jose
,
CA
95135
Sunrise at Alta Loma
9519 Baseline Road



Rancho Cucamonga
,
CA
91730
Sunrise at Bonita
3302 Bonita Road



Chula Vista
,
CA
91910
Sunrise at Canyon Crest
5265 Chapala Drive



Riverside
,
CA
92507
Sunrise at La Costa
7020 Manzanita St



Carlsbad
,
CA
92011
Sunrise at Palos Verdes
25535 Hawthorne Boulevard



Torrance
,
CA
90505
Sunrise at San Marino
8332 Huntington Drive



San Gabriel
,
CA
91775
Sunrise at Sterling Canyon
25815 McBean Pkwy



Valencia
,
CA
91355
Sunrise at Tustin
12291 Newport Avenue



Santa Ana
,
CA
92705
Sunrise at Wood Ranch
190 Tierra Rejada Road



Simi Valley
,
CA
93065
Sunrise of Yorba Linda
4792 Lakeview Avenue



Yorba Linda
,
CA
92886
Sunrise of Belmont
1010 Alameda De Las Pulgas



Belmont
,
CA
94002
Sunrise of Beverly Hills
201 North Crescent Drive



Beverly Hills
,
CA
90210
Sunrise of Burlingame
1818 Trousdale Drive



Burlingame
,
CA
94010
Sunrise of Carmichael
5451 Fair Oaks Blvd



Carmichael
,
CA
95608
Sunrise of Claremont
2053 North Towne Avenue



Claremont
,
CA
91711
Sunrise of Danville
1027 Diablo Road



Danville
,
CA
94526
Sunrise of Fair Oaks
4820 Hazel Avenue



Fair Oaks
,
CA
95628
Sunrise of Fresno
7444 North Cedar Avenue



Fresno
,
CA
93720
Sunrise of Fullerton
2226 North Euclid St



Fullerton
,
CA
92835
Sunrise of Hermosa Beach
1837 Pacific Coast Hwy



Hermosa Beach
,
CA
90254
Sunrise of Huntington Beach
7401 Yorktown Avenue



Huntington Beach
,
CA
92648