CNN recently released an in-depth investigation entitled "Sick, Dying and Raped in America's Nursing Homes" to highlight sexual abuse in long term care facilities. As an elder abuse attorney, I was forwarded the article by many friends and asked, 'does this really happen?!' Sadly, the answer is yes. Sexual abuse and rape in nursing homes occurs because sexual predators prey on vulnerable residents who cannot speak out for themselves. These sick individuals do not care about the age of the victim, instead only focusing on the power they have over the compromised patient. The article highlights the harrowing tale of Sonja Fischer, an Alzheimer's patient who was raped by nursing home staff. The sexual predator, Certified Nursing Assistant George Kpingbah, had a history of sexual assault. Apparently, this CNA was investigated in 2008 when police learned he had sex with a 65 year old MS patient. In a seemingly related case, an 83 year old resident of the facility reported being raped multiple times during the same shift, at midnight. Kpingbah worked this night shift. This resident was deaf and blind but was acutely aware of what was going on around her. Kpingbah was suspended from the facility, but not fired. When an offender has a history of sexual assault and the facility still employs the predator, a negligent hiring and retention claim may be brought against the nursing home. This usually is the basis for a nursing home abuse lawsuit against the facility for failing to properly screen their nursing staff before hiring.
Walker Methodist nursing home continued to employ Kpingbah during the night shift. This enabled Kpingbah to continue committing unspeakable atrocities on defenseless residents. The CNA was eventually caught in the act of raping Ms. Fischer, so the allegations were undeniable. Kpingbah has been sentenced to prison for this horrendous crime and the Fischer family is pursuing a sexual assault lawsuit against the nursing home.
"Walker Methodist certainly failed to handle this appropriately with my mother and other residents, and there should be consequences," said the son of the first alleged victim after learning of Kpingbah's rape conviction from CNN.
Rape in Nursing Homes: "An Untracked Issue"
In the CNN investigation, the journalists discovered how little government agencies do to track and document instances of sexual assault and rape inside facilities. Even though the statistics are likely under-reported, the CNN investigation revealed over 1,000 nursing home citations for failing to prevent rape, sexual assault and sexual abuse inside of nursing homes from 2013 to 2016. While this number alone is shocking, this does not account for the thousands of sexual abuse claims that go unreported inside facilities. With such a vulnerable patient population, any suspicion of rape must be investigated thoroughly, as many residents cannot verbalize abuse if they experience it. If you suspect sexual abuse inside a nursing home, visit our Report Abuse page by clicking here, and report the sexual assault to the appropriate agency for your geographic region.
Our Experience Handling Sexual Abuse Cases in Nursing Homes
Unfortunately, the lawyers at Senior Justice Law Firm have handled multiple cases involving allegations of sexual abuse in nursing homes. The abusers may be staff, visitors, volunteers or other residents. We have yet to take a sexual abuse case to trial, largely because the allegations are so explosive that a facility is afraid to put them before a jury. For this reason, most nursing home rape claims settle before going to trial. If you feel your loved one was abused or neglected inside a nursing home, contact our elder abuse law firm today for a free consultation. The call is toll free and our lawyers are here to help you. Call us now at 1-844-253-8919.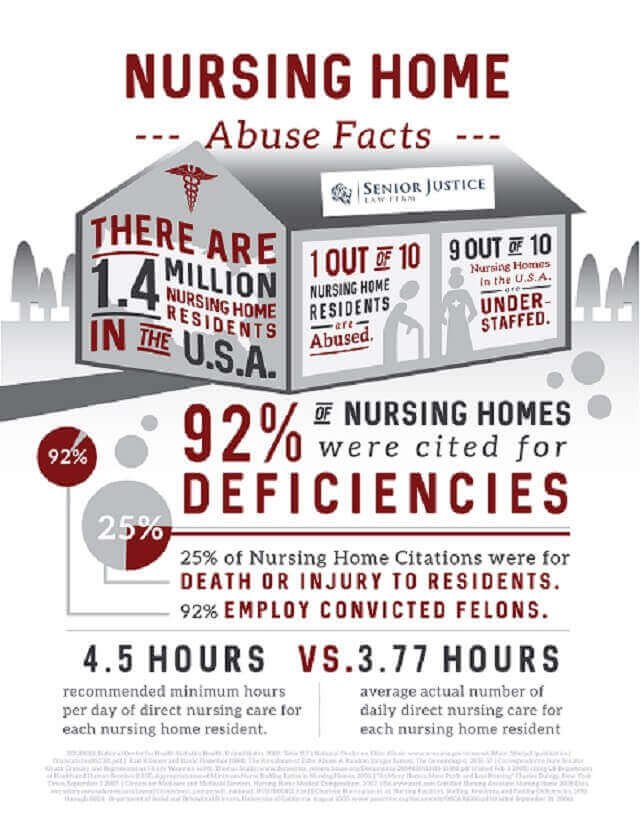 « Previous Post
Next Post »