Marietta Nursing Home Abuse Attorney, Serving Cobb County
Need legal help after an injury occurs in a Georgia nursing home or assisted living facility? Call our Marietta nursing home abuse attorney today at (470) 598-1515 for a completely free case consultation.
Nursing home abuse is our firm focus. This is all we do.

Find the Right Marietta Nursing Home Abuse Attorney For Your Case
If you are considering a nursing home in Marietta, Georgia for your loved one or family member, you have a wide variety to consider; in fact, this area is brimming with long-term care facilities thanks to its proximity to nearby Atlanta. Unfortunately, even the facilities that rate as average or higher are not necessarily free from abuse and neglect, and it is important that you make a careful decision about which nursing home to trust. In order to understand how to choose a reliable long-term care facility—as well as what to do if your loved one has already experienced injury as a result of poor care—you must first stay informed about what care looks like Marietta.
Nursing Homes in Marietta: How They Compare
Marietta, Georgia is located to the northwest of the bustling metropolis of Atlanta, and thanks to this location, the city is full of opportunity. As one of the largest suburbs of Atlanta, nursing homes have expanded into the area in droves to accommodate rising demand. With a population of more than 60,000 people, Marietta is home to a rising elder population, many of whom rely on nursing home care in order to achieve the best quality of life.
However, not all nursing homes are created equal, and the facilities in Marietta are not exempt from the nationwide struggle to balance profit, expenses, and quality of care. Nursing home abuse can occur anywhere, but some of the 56 facilities in the area are particularly low rated. For up to date star ratings, visit Medicare's care compare website.
Here are Marietta's skilled nursing facilities, in alphabetical order, regardless of star rating.
| | | |
| --- | --- | --- |
| A.G. RHODES HOME, INC – COBB | 900 WYLIE ROAD | MARIETTA |
| AUTUMN BREEZE HEALTH AND REHAB | 1480 SANDTOWN ROAD SW | MARIETTA |
| MANOR CARE REHABILITATION CENTER – MARIETTA | 4360 JOHNSON FERRY PLACE | MARIETTA |
| PRUITTHEALTH – MARIETTA | 70 SAINE DRIVE SW | MARIETTA |
| ROSELANE HEALTH AND REHABILITATION CENTER | 613 ROSELANE STREET | MARIETTA |
| SIGNATURE HEALTHCARE AT TOWER ROAD | 26 TOWER RD | MARIETTA |
| SIGNATURE HEALTHCARE OF MARIETTA | 811 KENNESAW AVENUE | MARIETTA |
This is not a comprehensive list of nursing homes in the Marietta area, but these are some of the larger skilled nursing centers in Cobb County. While ratings and inspection reports are not conclusive of care quality, they can serve as a valuable place to start as you consider potential care issues.
From bedsores and falls to food safety concerns, some nursing homes in Marietta have struggled to maintain a high quality of life through adequate staff attention and resident care.
Recent Marietta Nursing Home Citations and Fines
Marietta's Signature Healthcare location has received 17 citations, with four serious deficiencies resulting in more than $175,000 in fines. Autumn Breeze, also mentioned above, was cited 13 times, and the Tower Road location of Signature Health saw 15 citations resulting in almost $10,000 in fines. Pruitthealth – Marietta—a chain of nursing homes that has historically struggled to avoid preventable injury in its residents—was cited for 13 violations, and Manor Care Rehabilitation followed it close behind at 10.
Some of the most recent inspections in Marietta nursing homes have revealed a variety of issues, including staff failure to properly flush tubes, resulting in clogged feeding tubes. Additionally, staff alleged failed to properly administer medication through the tubes as instructed by the residents' care plan. One resident at Signature Healthcare did not receive her medication in a timely manner, and meal times were also delayed for some residents, leading to longer than scheduled periods between meals.
At Autumn Breeze, one of the many other nursing homes that have been cited for abuse, the dietary manager position was filled by an individual who did not possess any certifications or competencies to carry out the position, such as a qualified dietitian license. In addition, residents at the facility typically saw a physical therapist for no more than one minute per resident per day, and registered nurses were only present for each patient for approximately 11 minutes per day. This is a significant divergence from the national average, with some of Marietta's nursing homes providing registered nurse attention four times less often.
Disclaimer

*The above does not mean your loved one would be in harm at these facilities. Each facility gets inspected often. Almost all facilities have deficiencies. Many face civil lawsuits. You should not make a facility placement decision based solely on the above information. Each case is different. Prior results do not guarantee a similar outcome or indicate an expected outcome on your particular case. The inspection results are provided from public government agency surveys. The state Department of Health conducts a survey of all nursing home facilities at least once every 15 months. The deficiencies listed on this page may have been corrected after the date of the inspection and date of publishing this material. Citations, ratings and deficiencies are current as of the date of this post (9/10/21) and will change later on. The inspection findings published are not complete. You may find the most up to date information at medicare.gov. This material is not endorsed by the facility or by any governmental agency. Speak with an attorney immediately if you believe you have a viable case against a nursing home, assisted living facility or medical facility.
Reporting Abuse in Marietta, Georgia
Your first instinct after learning about nursing home abuse or neglect may be to confront the nursing home, but that should not be where you stop. Each state maintains an ombudsman program to protect the best interests of the elderly who live in long-term care facilities. Georgia has a statewide resource for reporting nursing home abuse, which you can find at https://www.georgiaombudsman.org/contact-us/. Nearby Atlanta also has an office, and Cobb County is part of the capitol region for the purposes of the ombudsman program at https://www.georgiaombudsman.org/locations-east/.
The Cobb County ombudsman office at 225 Cameron Road in McDonough is available by phone at (404)-627-1057 or by fax at (404)-627-1064. You can view a map of Georgia on the ombudsman's website to determine which location is nearest to you. Even if you select the wrong location to handle your complaint, the ombudsman program will help to redirect you to the office that can help you with your report. Do not hesitate to reach out to these resources; they are there in order to help you navigate the process of reporting negligence and abuse. However, it is also important that you seek legal counsel to pursue remediation to help you cover any medical bills, expenses, and even compensation for pain and suffering.
Signs of Elder Abuse in Marietta Facilities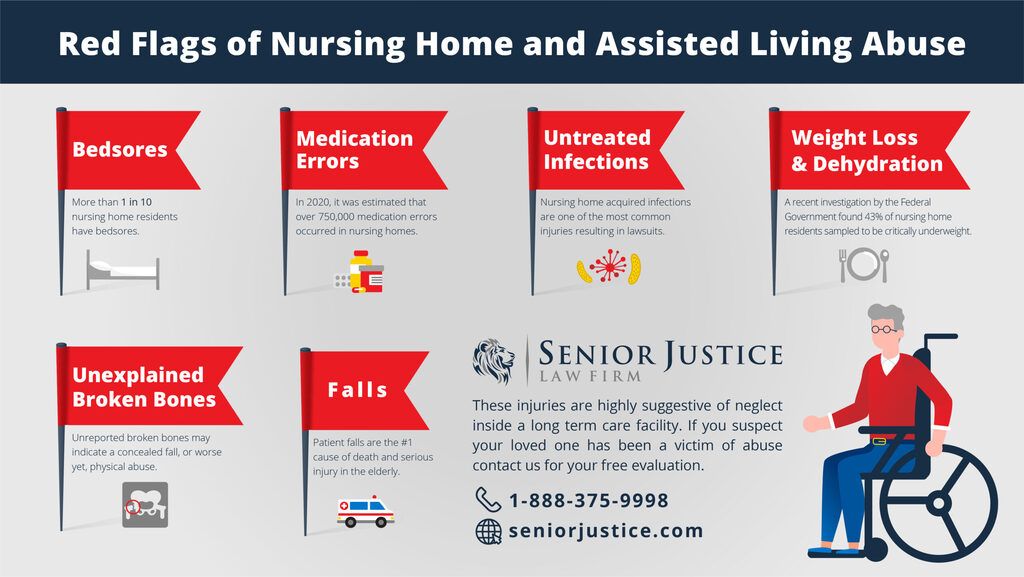 Rely on Professional Nursing Home Abuse Lawyers
The attorneys at Senior Justice Law Firm understand that discovering abuse or neglect in a nursing home can be traumatic, especially when your loved one is the victim. This is why we are happy to offer consultations free of charge to discuss your options.
If you believe that someone you love was a victim of abuse or negligence in a nursing home in Marietta, Georgia or the surrounding area, reach out at (470) 598-1515 or use our online message system to get in touch. If you live chat with our office, please share as much details and case facts as possible. We can help you determine if you have a case and create a roadmap for how to proceed.
Our Atlanta nursing home abuse attorney is here to help your family after a tragedy occurs inside a Marietta long term care facility.