Arden Courts – Prior Lawsuits and Company Information
Our Attorneys Can Help You Win Your Arden Courts Negligence Lawsuit
Searching for a lawyer that has years of experience winning cases against Arden Courts for assisted living negligence? Our law firm has successfully handled numerous lawsuits against Arden Courts for the following injuries:
Falls and Fractured Bones
Significant Weight Loss
Wounds and Sores
Elopement (Wandering out of the Facility)
Wrongful, Sudden or Suspicious Death
If you believe you have a potential case against Arden Courts assisted living or an Arden Courts memory care unit, let our experience help guide you on the path to justice.
Call us today to speak with one of our experienced, compassionate elder abuse attorneys to receive a completely free case consultation: 1-888-375-9998.
Recognizing Abuse & Neglect Injuries
As our parents age, roles reverse and we become their protectors. It is crucial when you have a loved one residing in an assisted living or memory care facility that you remain vigilant for signs of abuse or neglect.
Below are common 'red flag' injuries which routinely result in Arden Courts negligence lawsuits: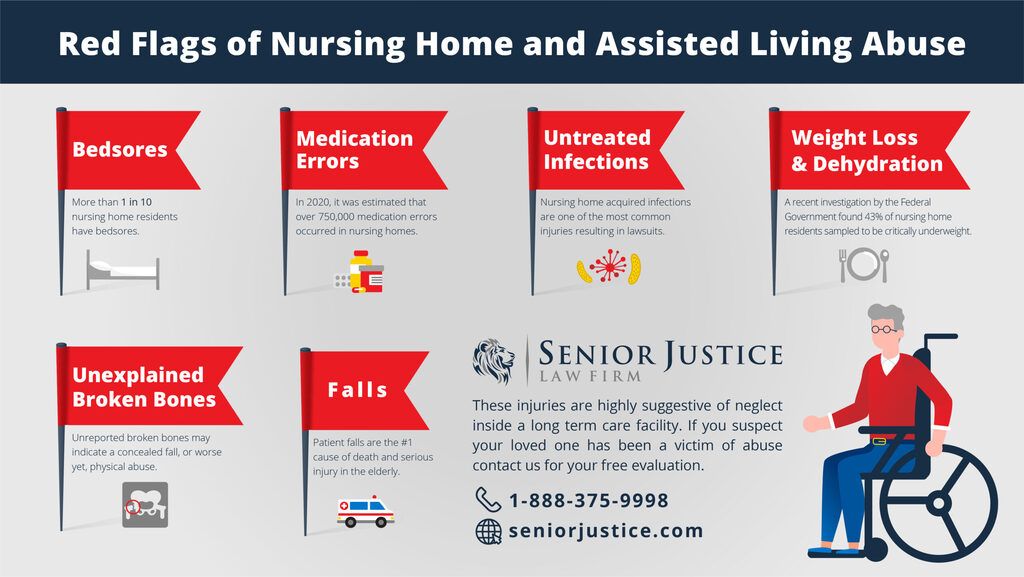 If your loved one suffered any of the above 'red flag' injuries inside an Arden Courts facility, contact Senior Justice Law Firm today at 888-375-9998. These injuries are highly correlated with negligence.
Everything You Wanted to Know, and More, About Arden Courts
Who Really Owns and Controls Arden Courts?
Arden Courts was previously owned and operated by the Heartland Manor Care company. The corporate owner was technically HCR ManorCare, one of the largest corporate-owned nursing home chains in the country at the time. Our attorneys regularly sue Manor Care and Heartland nursing homes for negligence. In 1994, HCR ManorCare expanded into the assisted living industry under the name Arden Courts.
For branding purposes, HCR ManorCare operated its skilled nursing facilities under the names "Manor Care" and "Heartland", while it operates its assisted living facilities under the "Arden Courts" brand.
It was then announced that Arden Courts would be acquired by ProMedica and rebranded under the ProMedica name. Our firm has extensive experience handling ProMedica cases of neglect as well.
After ProMedica spun off its skilled nursing portfolio, it announced it would retain the Arden Courts facilities. So currently, Arden Courts is still operated by ProMedica Senior Living.
What Levels of Care Does Arden Courts Provide?
Arden Courts facilities are traditionally assisted living facilities. In terms of levels of care, an assisted living facility (ALF) is lower than a skilled nursing facility (SNF), which is also known as a nursing home.
Arden Courts has taken advantage of the rapidly growing Memory Care sector of senior living communities. This is the most profitable sector for long term care providers to be in, as there are higher care needs for the memory care residents. Fittingly, our lawyers have seen an increase in Arden Courts Memory Care Unit negligence claims in the past few years.
Arden Courts' Focus on Memory Care Puts the Company on Notice of Higher Needs Residents
Arden Courts bills itself as a "memory care focused facility." Memory Care facilities specifically care for residents with Alzheimer's Disease, dementia, and confusion. It is no surprise that these are the residents who require the highest level of care and supervision to prevent falls, elopement and injuring themselves.
It is insufficient for Arden Courts to accept high-acuity residents with known memory issues, then claim they cannot prevent falls or injuries. The law is, if a facility accepts payment to care for the resident, they must provide the care and supervision for which the resident paid.
I am Being Told that Arden Courts is Not Responsible for Mom's Injury Because They Are Just an Assisted Living Facility and Not a Nursing Home
"We are just an assisted living community" is not a valid excuse for resident injuries, falls or wrongful death. In fact, most states require assisted living facilities like Arden Courts to regularly assess the residents for appropriateness of residency. This means that an ALF must make sure it can safely supervise and assist its residents. If the ALF cannot keep its residents safe due to a decline in their condition, they must send them out to a higher care facility, like a skilled nursing home.
If the facility claims Mom is at fault for her injuries because her confusion increased, the real question is, why did she remain in Arden Courts if they could not care for her?
Senior Justice Law Firm's Experience with Arden Courts Lawsuits

At Senior Justice Law Firm, our mission is simple: achieve justice for wrongfully neglected seniors. Our firm focus is on cases against nursing homes and assisted living facilities. This is what we do and we do it well.
We have successfully recovered millions of dollars for elder abuse victims and their families. Specific to Arden Courts cases, we have recovered in excess of $1M in settlements against the assisted living corporate chain. We have crucial deposition testimony and discovery documents from Arden Courts which can be used in a punitive damages proffer. Most importantly, we empathize with what you are going through. We understand that the filing of your lawsuit against Arden Courts is about much more than just money damages. The decision to bring a case is motivated by a yearning for justice, to get answers on what happened, and to make sure it does not happen to the next vulnerable resident.
We love what we do because we get to assist you in getting the justice you deserve. If you believe you may have a case against Arden Courts, contact our experienced lawyers today to learn more about your rights and the legal process:
Free Arden Courts Lawsuit Consultation
Do not worry about how you'll be able to afford our legal services. We work entirely on a contingency fee. This means we only get paid if we win your case and you recover money.
Call us now at 1-888-375-9998 to see how we can help.